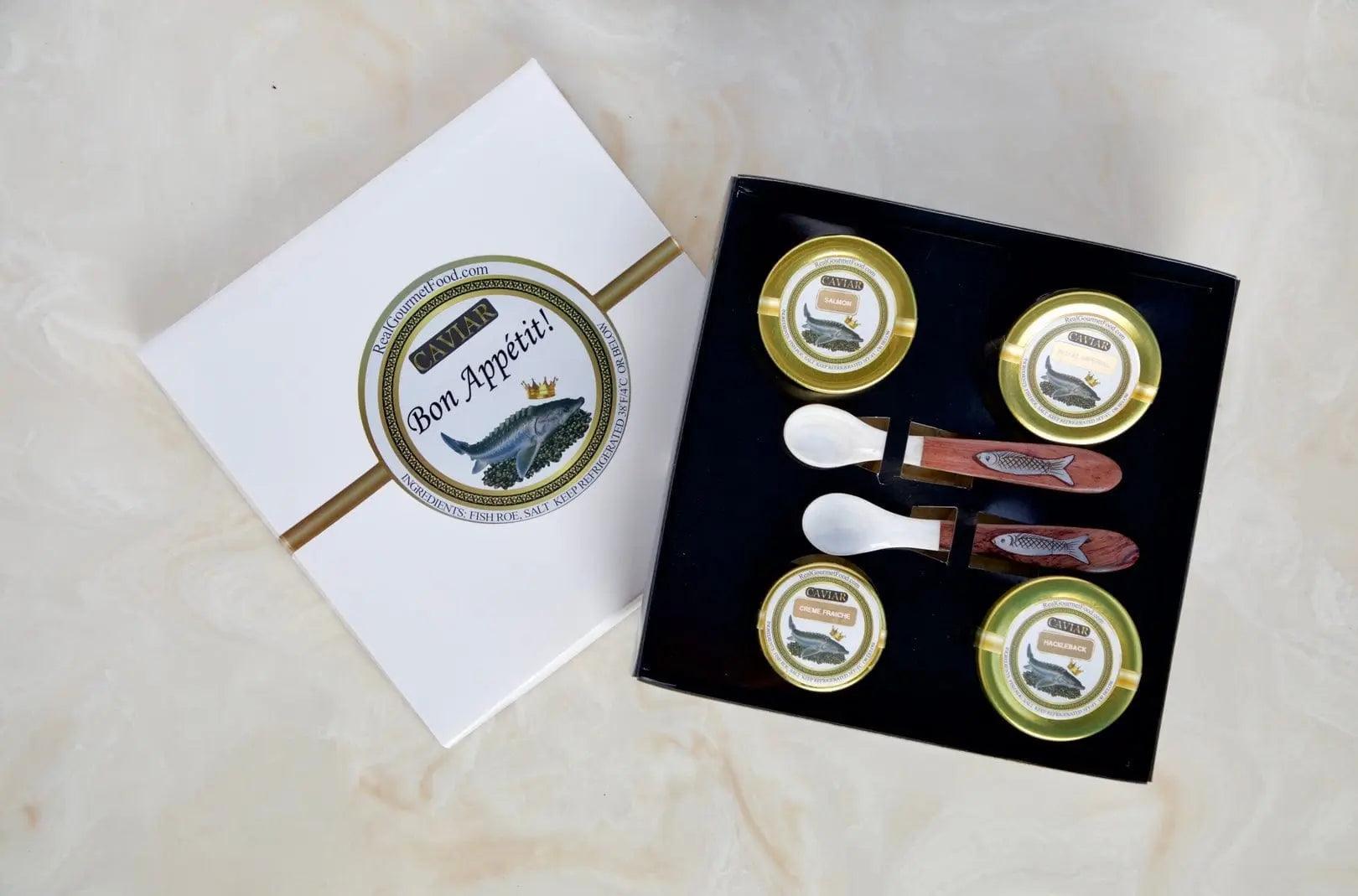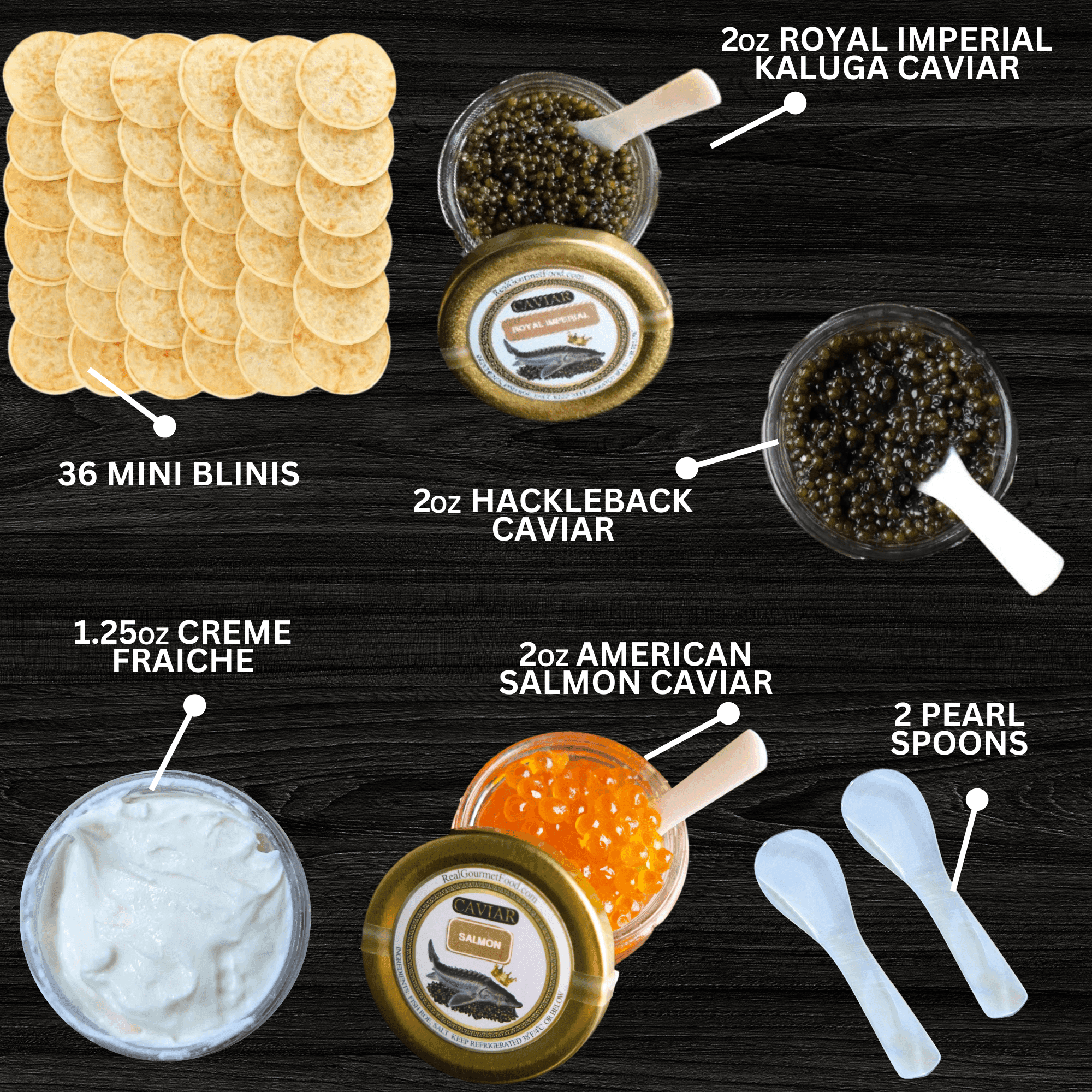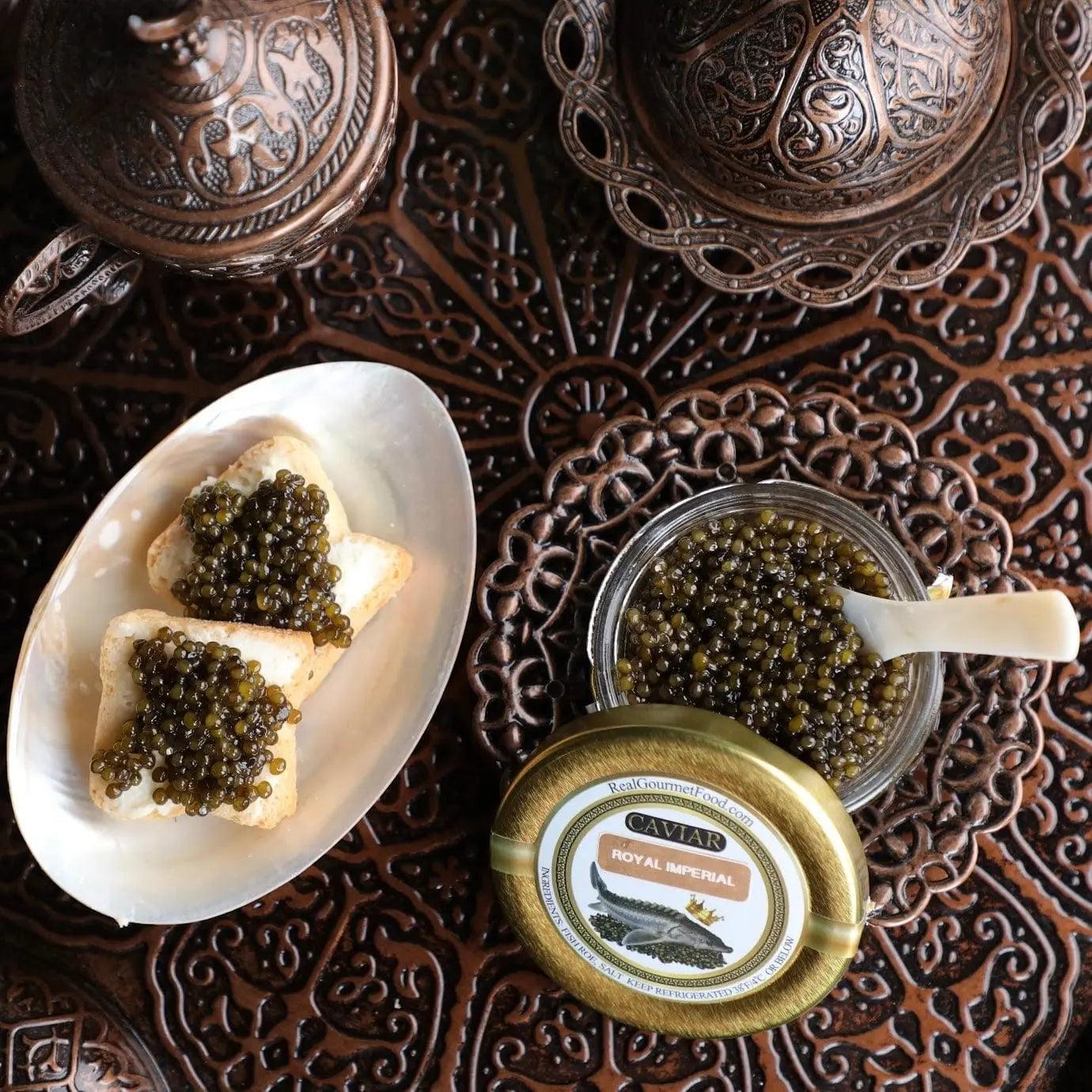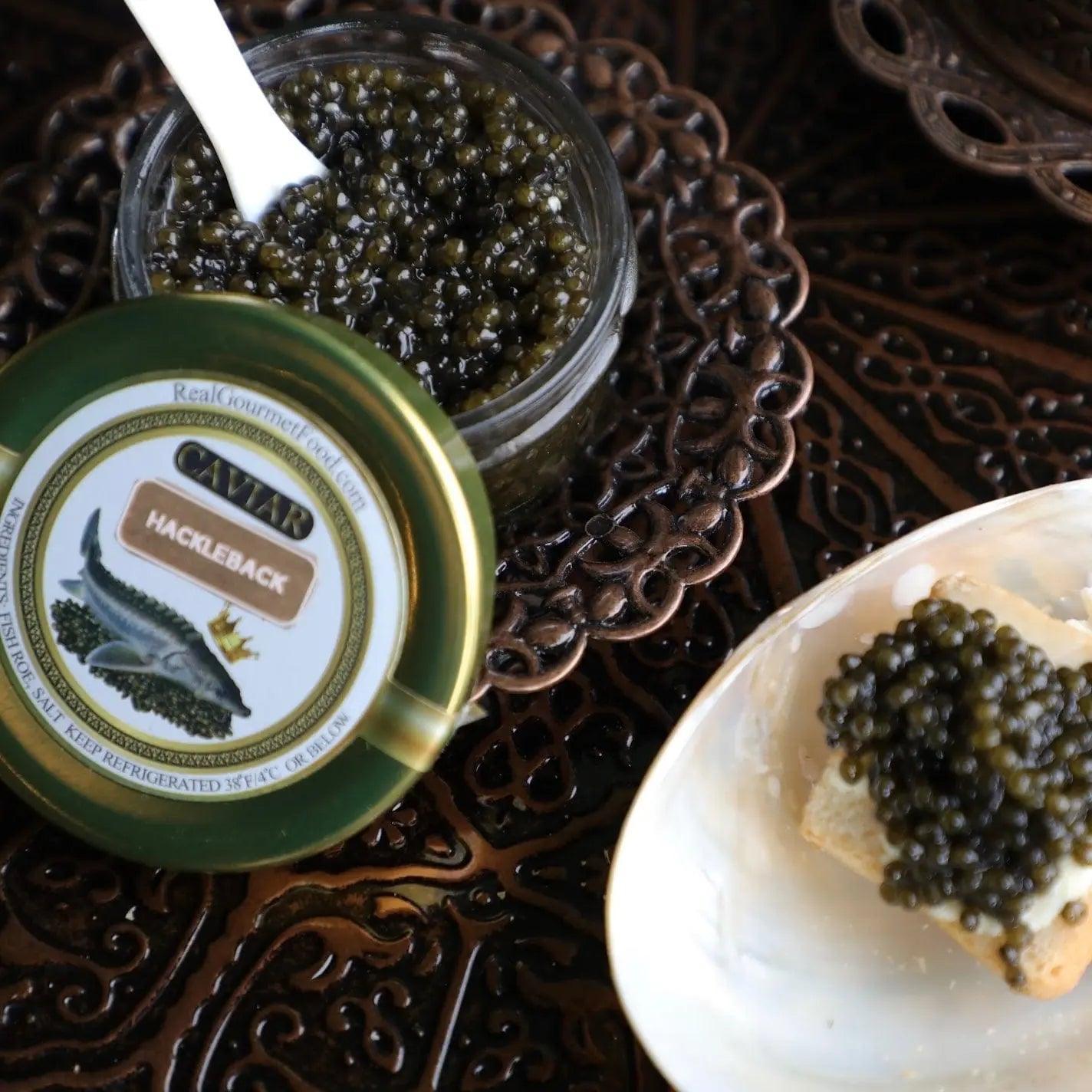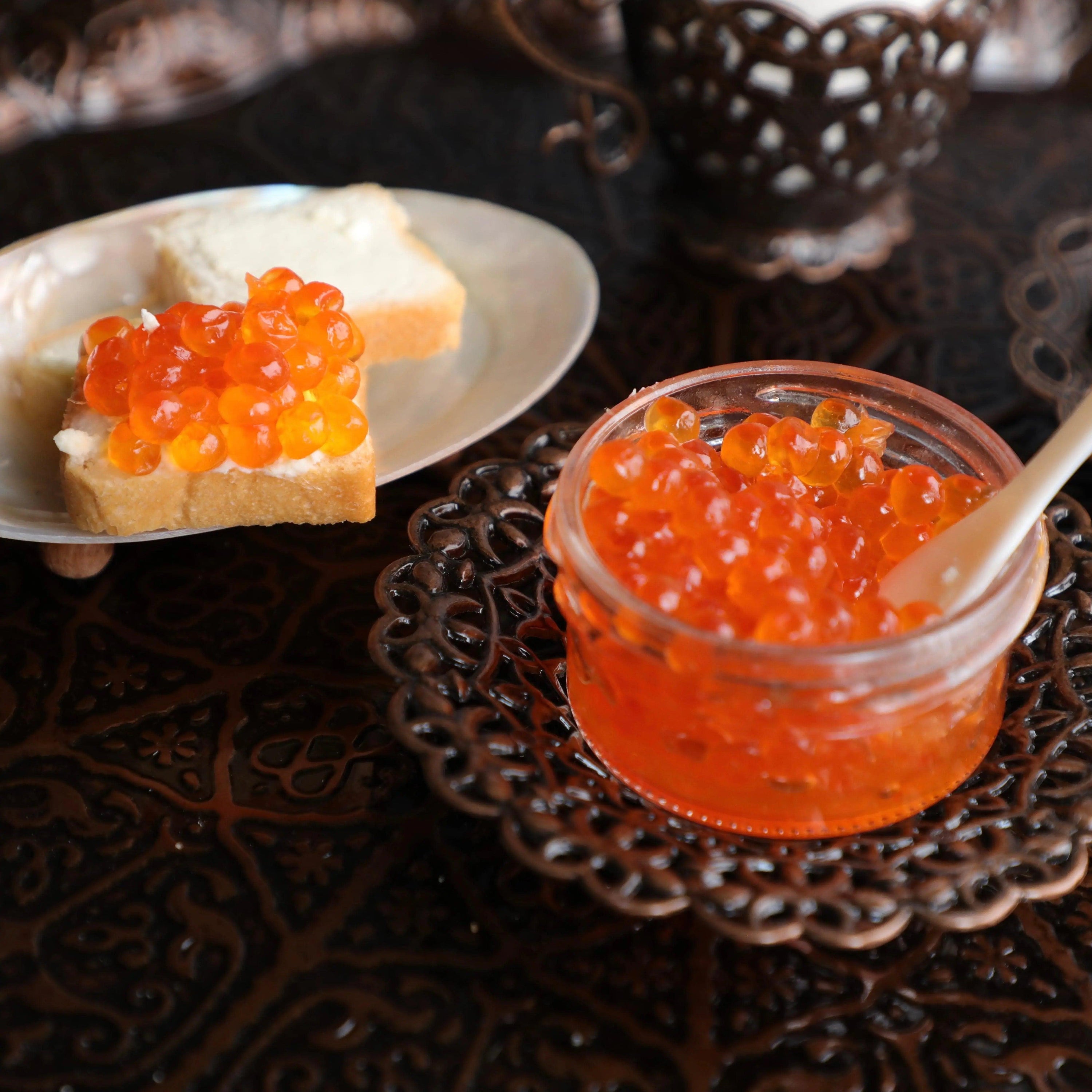 Products may slightly vary due to the nature of food item, lighting sources or computer monitor. Manufacturers may update packaging or change seasonally any time.
Crowned Troika: Royal Imperial Kaluga, Hackelback, and Keta
Regular price
$345.00
$300.00
Subscription • Save
NOTE: All perishable products ship overnight by default. Overnight shipping comes with a premium price. Here's how to get FREE shipping. CLICK HERE
Have a Question?
Description
Gift the royal experience of 'Crowned Troika.' This exquisite caviar trio, featuring Keta, Royal Imperial, and Hackleback Caviar, is more than a present—it's an encounter with opulence. With three distinct colors and flavors, this regal trio offers not just a taste but a journey through the finest shades and flavors of caviar. From the vibrant red of Keta to the golden allure of Royal Imperial Kaluga Hybrid and the velvety depths of Hackleback, each bite unveils a unique layer of richness.
'The Crowned Troika' isn't merely a lavish treat; it's a luxurious experience, a royal feast for the senses, a celebration of taste and refinement. For the recipient, it's more than a treasure—it's a crowning moment of indulgence."
This is why the Crowned Troika is the perfect caviar ensemble when celebrating life's milestones. Whether it's a significant birthday, an anniversary, the purchase of a new home, a warm home welcoming or closing gift,  business gifts, thank you gifts, thinking of you gifts, or any moment worth commemorating, the opulence and rich flavors of 'The Crowned Troika' elevate the occasion. This exquisite caviar trio offers an exceptional way to honor and celebrate life's special moments. The Crowned Troika' adds a touch of elegance and sophistication to any event and delivers a royal feast for the senses.
 Packaging

Gift box

Preparation of Caviar

Fresh, Cured with Salt

Contents

Keta 2oz, Royal Imperial Kaluga 2oz, Hackleback 2oz, creme fraiche 1.25 oz, 36 mini blinis, 2 pearl spoons

Shelf Life Refrigerated

4 to 6 weeks. Consume within 3 days after opening.

Storage Type

Refrigerate caviar (Mini blinis refrigerate / toasts are pantry stable.)

Shipping

The product is perishable and will be shipped via Overnight shipping

Species

Hackleback: Scaphirhynchus Platorynchus  

Royal Imperial Kaluga: Huso dauricus x Acipenser Schrenckii

American Salmon Caviar: Oncorhynchus Keta

Thaw

If ever frozen, thaw In the fridge, slowly. Never thaw at room temperature. Never cut into frozen caviar with a knife or pick at frozen caviar.

Storage

1 Month Refrigerated 38°F / 4°C, Unopened. Do not freeze or refreeze if previously frozen. Consume within 3 days of opening.