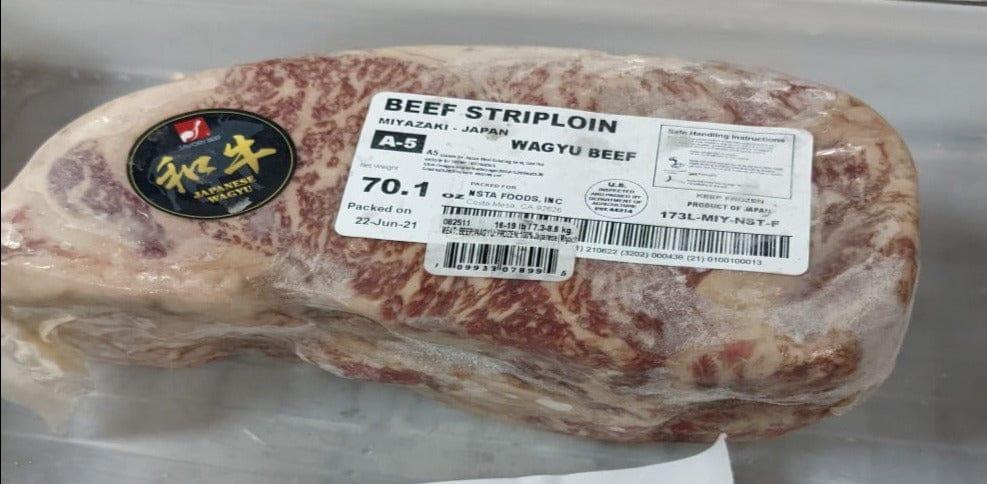 Products may slightly vary due to the nature of food item, lighting sources or computer monitor. Manufacturers may update packaging or change seasonally any time.
A5 Wagyu Beef Striploin Miyachiku - JAPAN
Regular price
$1,000.00
$923.99
Subscription • Save
NOTE: All perishable products ship overnight by default. Overnight shipping comes with a premium price. Here's how to get FREE shipping. CLICK HERE
Have a Question?
Description
WAGYU: 100% Japanese, Miyachiku Striploin A5
 Japanese Wagyu Beef is the ultimate gourmet experience. It is marbled with a higher percentage of intramuscular fat than any other beef in the world, giving it a rich, buttery texture and mouth-watering flavor. The Wagyu Striploin is cut from just below the ribeye roast. This cut has minimal fat and will yield tender, juicy steak every time.
 Striploin, or short loin, is one of the most popular cuts amongst steak lovers. It's great for cooking on the grill or roasting in the oven, and it is perfectly suited to braising and stewing too. Our Striploin is supplied as whole chine (0% fat trim) with an extremely rich marbling score of 9+/9. Juicy and tender with a robust flavor; simply delicious. 
MEAT: BEEF: WAGYU: FROZEN: 100% Japanese (Miyachiku) Striploin A5