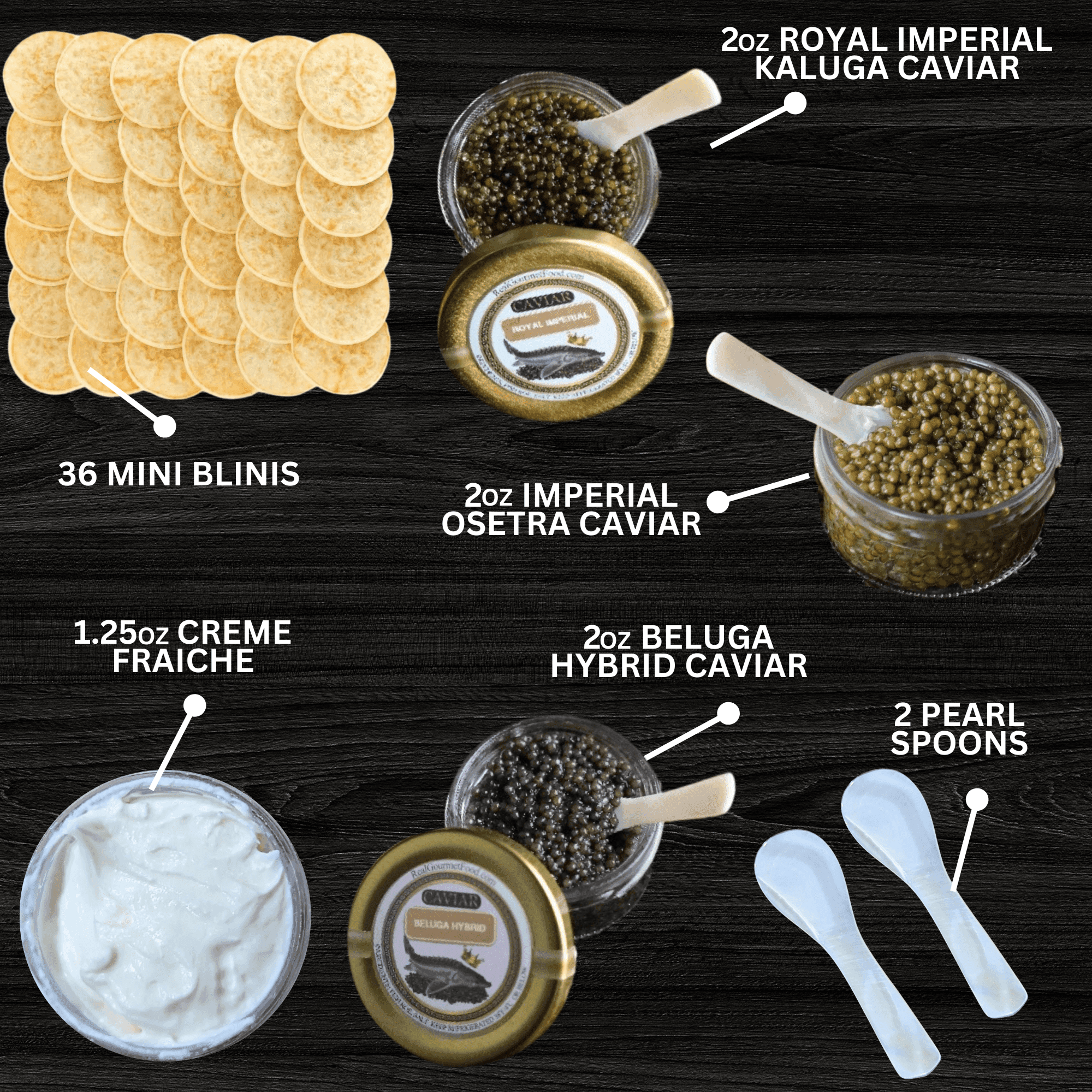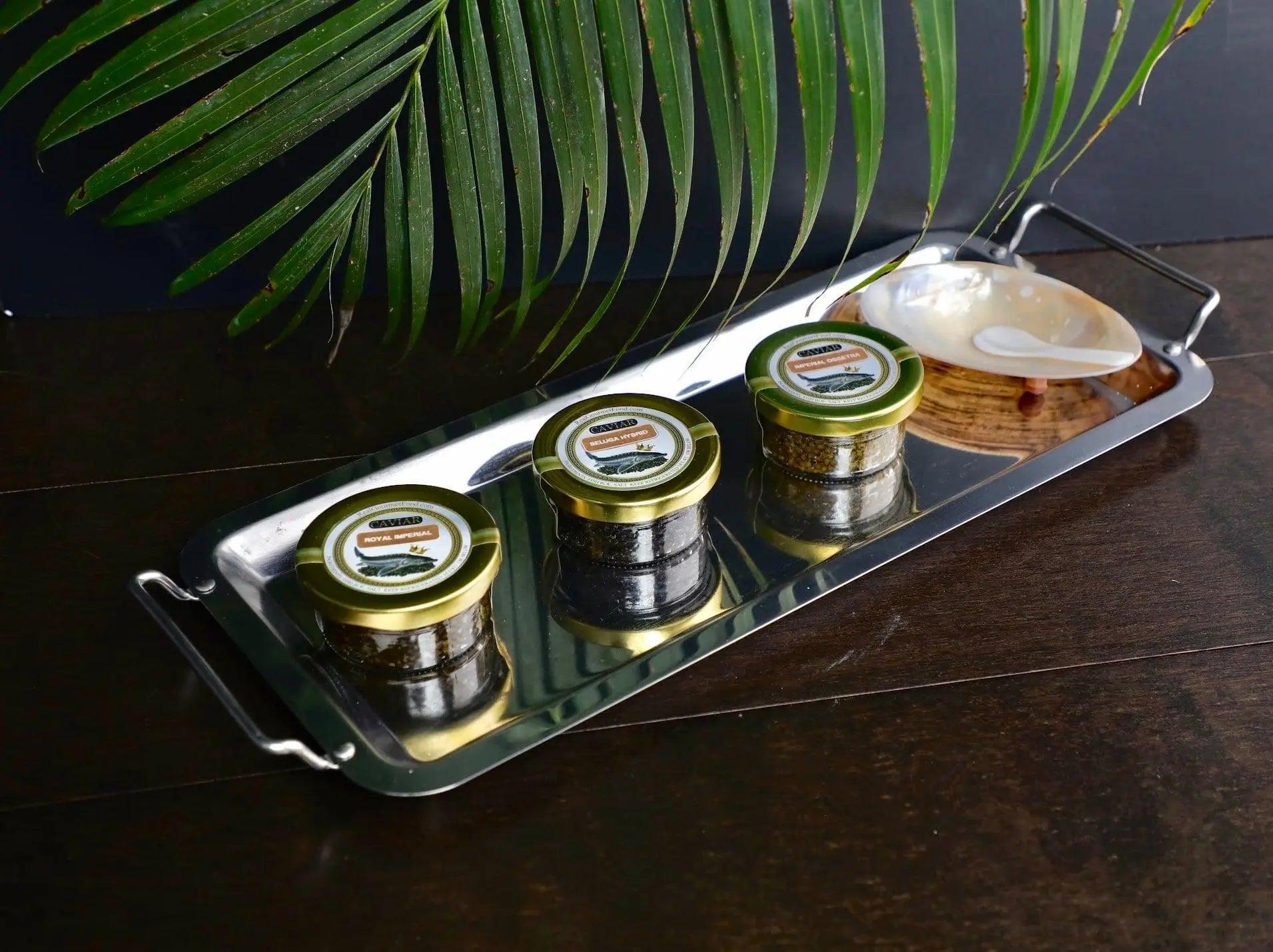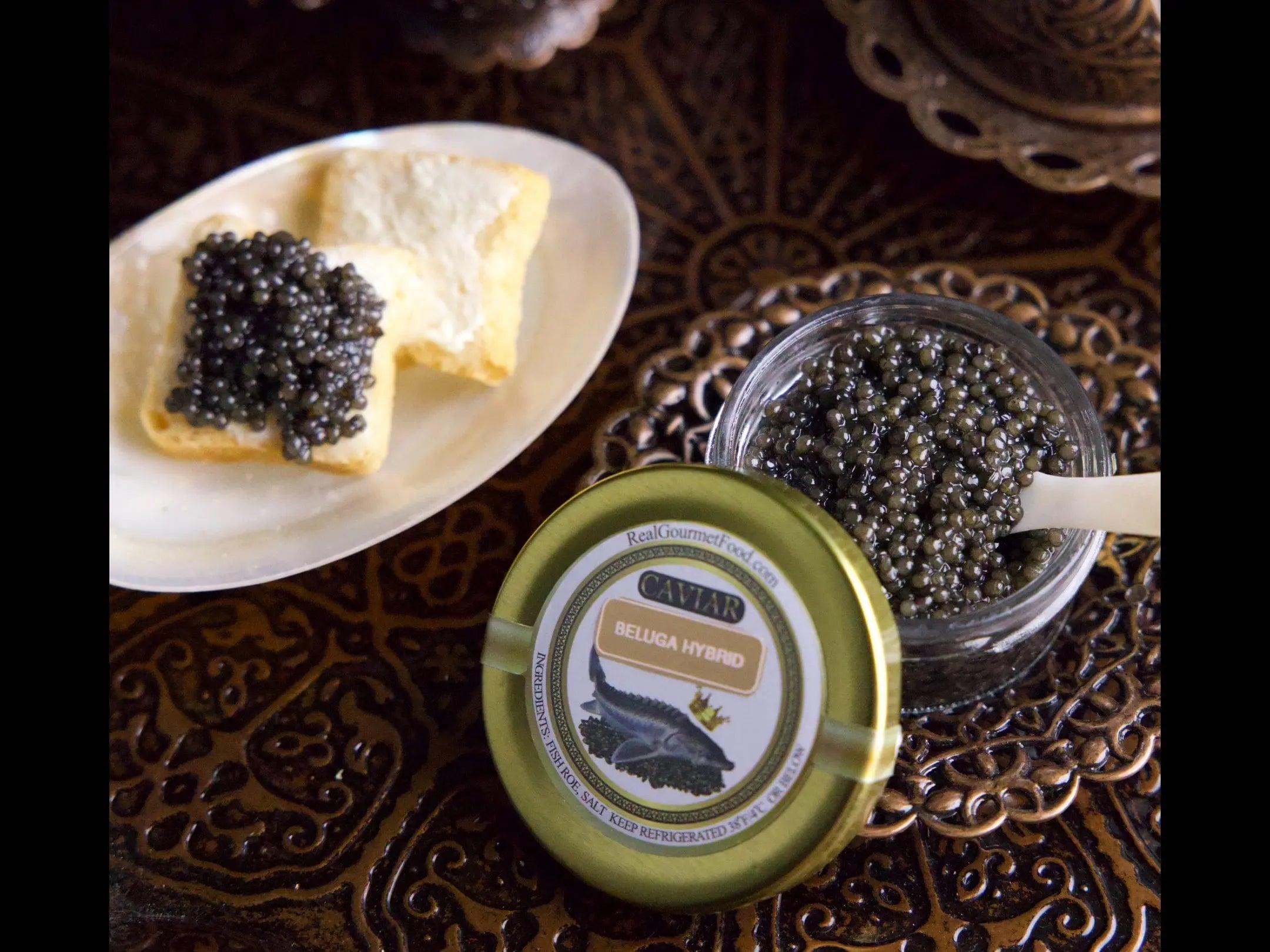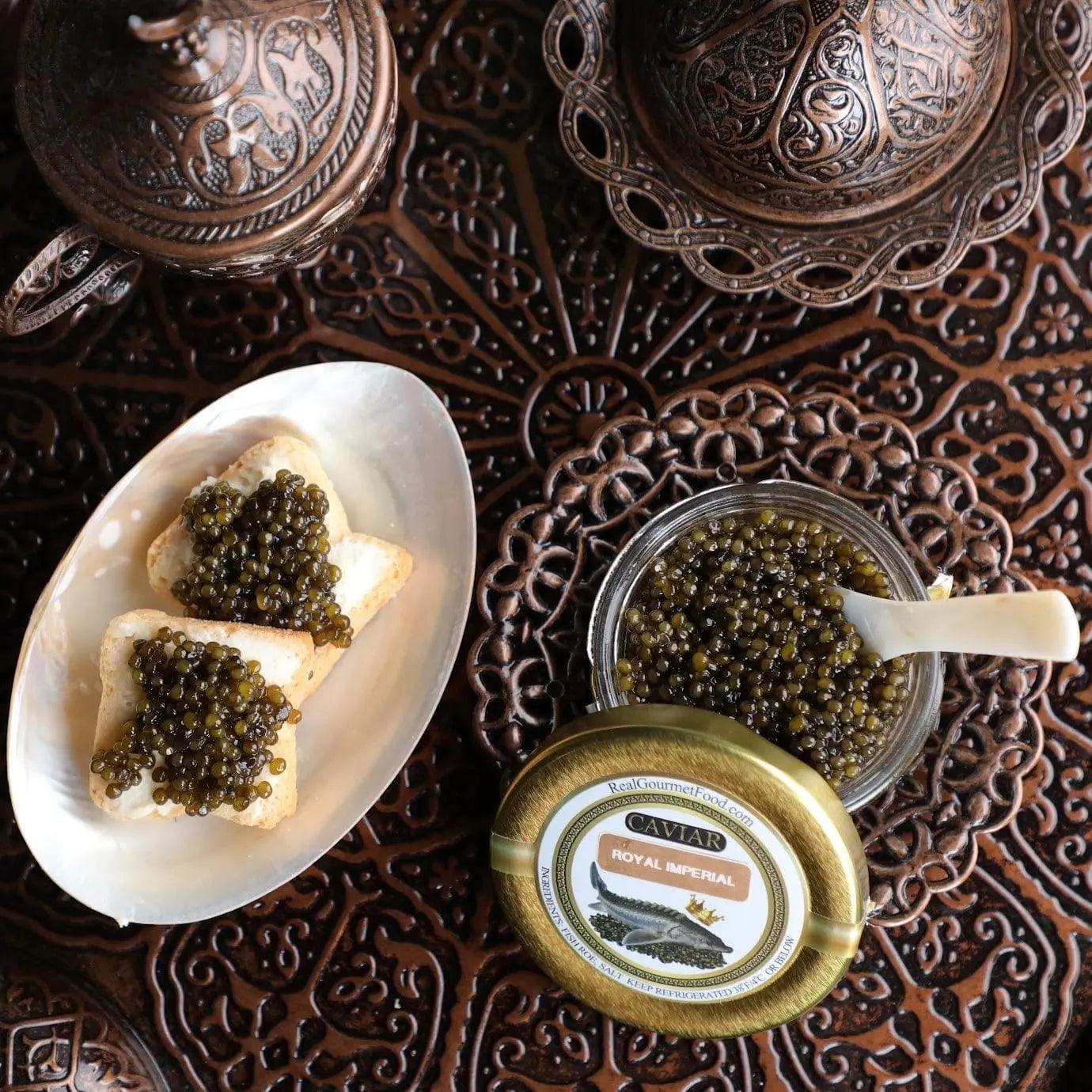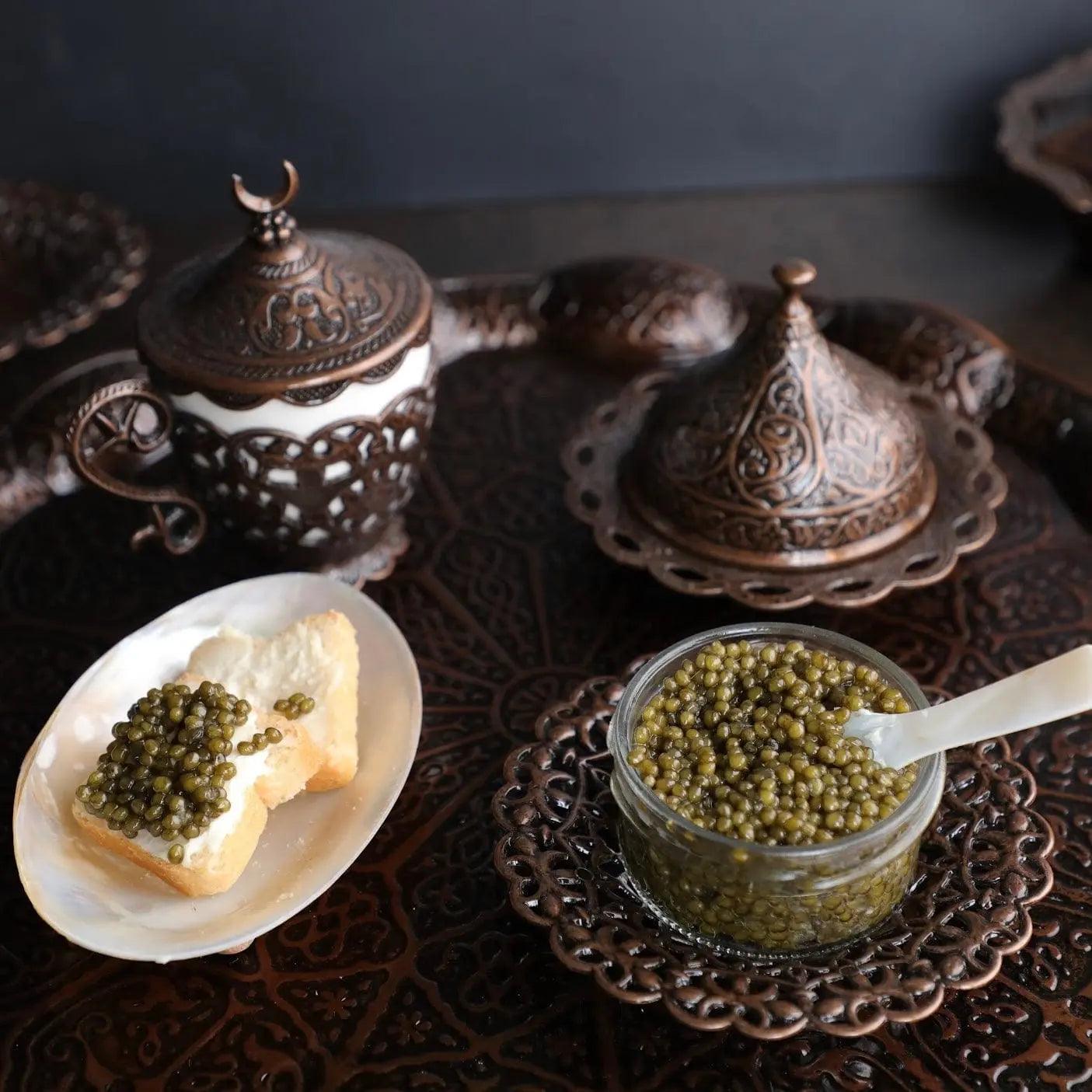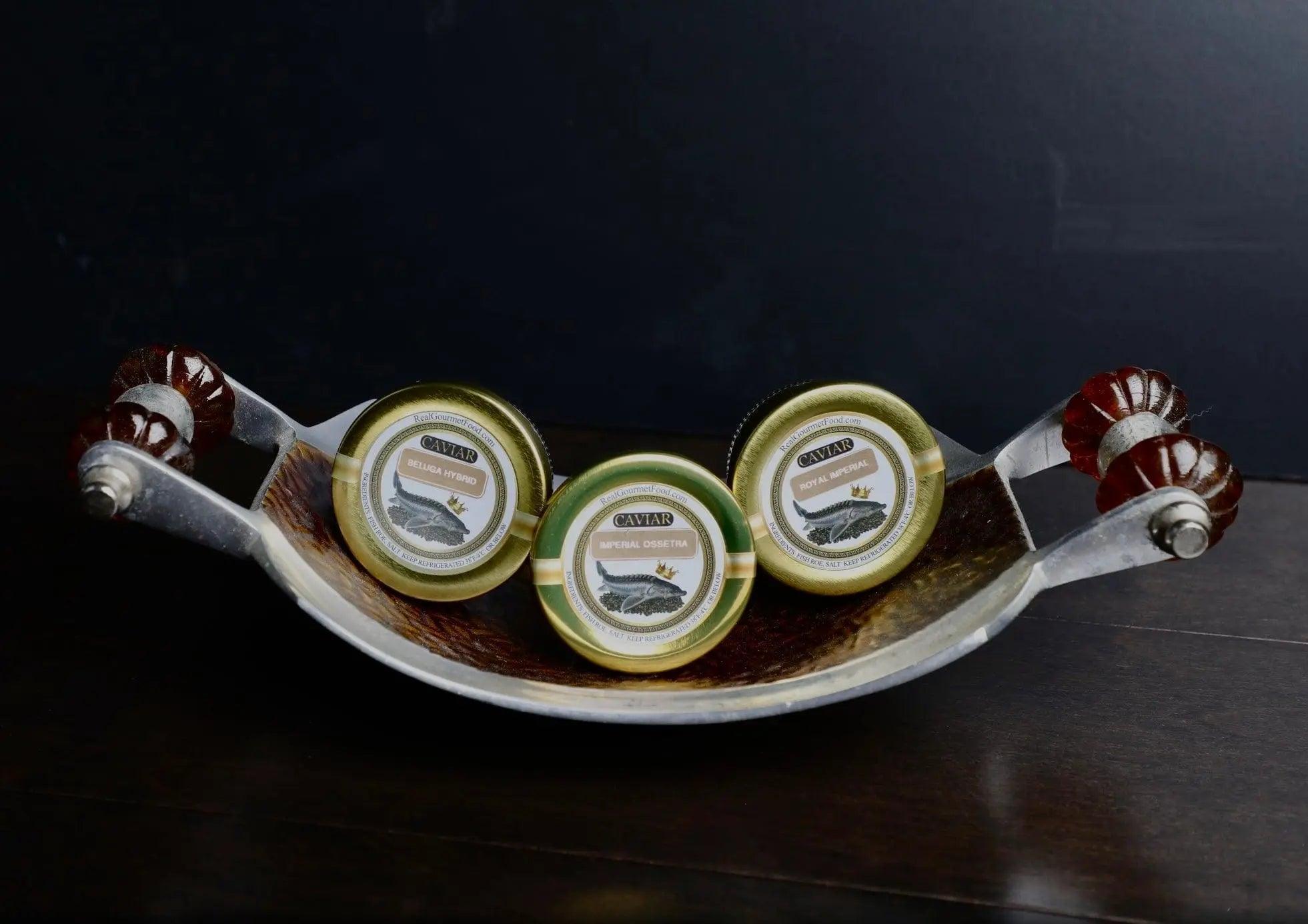 Products may slightly vary due to the nature of food item, lighting sources or computer monitor. Manufacturers may update packaging or change seasonally any time.
Your Majesty
Regular price
$690.00
$600.00
Subscription • Save
NOTE: All perishable products ship overnight by default. Overnight shipping comes with a premium price. Here's how to get FREE shipping. CLICK HERE
Have a Question?
Description
Embark on an extraordinary culinary voyage with the "Your Majesty" caviar gift set, a regal assembly of the sea's most cherished treasures: the majestic Beluga Hybrid, the dignified Imperial Osetra, and the luxurious Royal Imperial Kaluga. Each variety of caviar in this impeccable collection brings its own unique charm, united by its unmatched quality and sumptuous taste.
From the delicate, buttery elegance of the Beluga Hybrid, celebrated for its impressive pearls and mild, creamy flavor, to the profound richness of the Imperial Osetra, with its delightful crispness and distinct nutty overtones—every spoonful is a royal revelation. Not to be overshadowed, the Royal Imperial Kaluga marks its presence with bold, robust grains that enchant the palate with a sublime, buttery elegance and a flourish of exquisite flavors.
Encased in opulent packaging that mirrors the grandeur of its contents, the "Your Majesty" set makes for an extraordinary gift or a personal indulgence that invites you to partake in a dining experience of majestic proportions. Allow this grand trio to unveil an orchestra of flavors and textures, creating moments of indulgence that echo with the luxury and splendor worthy of royalty. In the presence of "Your Majesty", every occasion is transformed into a celebration of culinary excellence and grandeur.
The Your Majesty Caviar gift set includes 2oz of Beluga Hybrid Caviar, 2oz of Imperial Osetra Caviar, 2oz of Royal Imperial Kaluga Caviar, 1.25oz of crème fraîche, 36 mini blinis, and 2 pearl spoons.
 Packaging

Gift box

Preparation of Caviar

Fresh, Cured with Salt

Contents

Beluga Hybrid 2oz, Imperial Osetra 2oz, Royal Imperial 2oz, creme fraiche 1.25 oz, 36 mini blinis, 2 pearl spoons

Shelf Life Refrigerated

4 to 6 weeks. Consume within 3 days after opening.

Storage Type

Refrigerate caviar (Mini blinis refrigerate / toasts are pantry stable.)

Shipping

The product is perishable and will be shipped via Overnight shipping

Species

Beluga Caviar: Huso Huso

Royal Imperial Kaluga: Huso dauricus x Acipenser Schrenckii

Imperial Osetra: Acipenser Gueldenstaedtii

Thaw

If ever frozen, thaw In the fridge, slowly. Never thaw at room temperature. Never cut into frozen caviar with a knife or pick at frozen caviar.

Storage

1 Month Refrigerated 38°F / 4°C, Unopened. Do not freeze or refreeze if previously frozen. Consume within 3 days of opening.