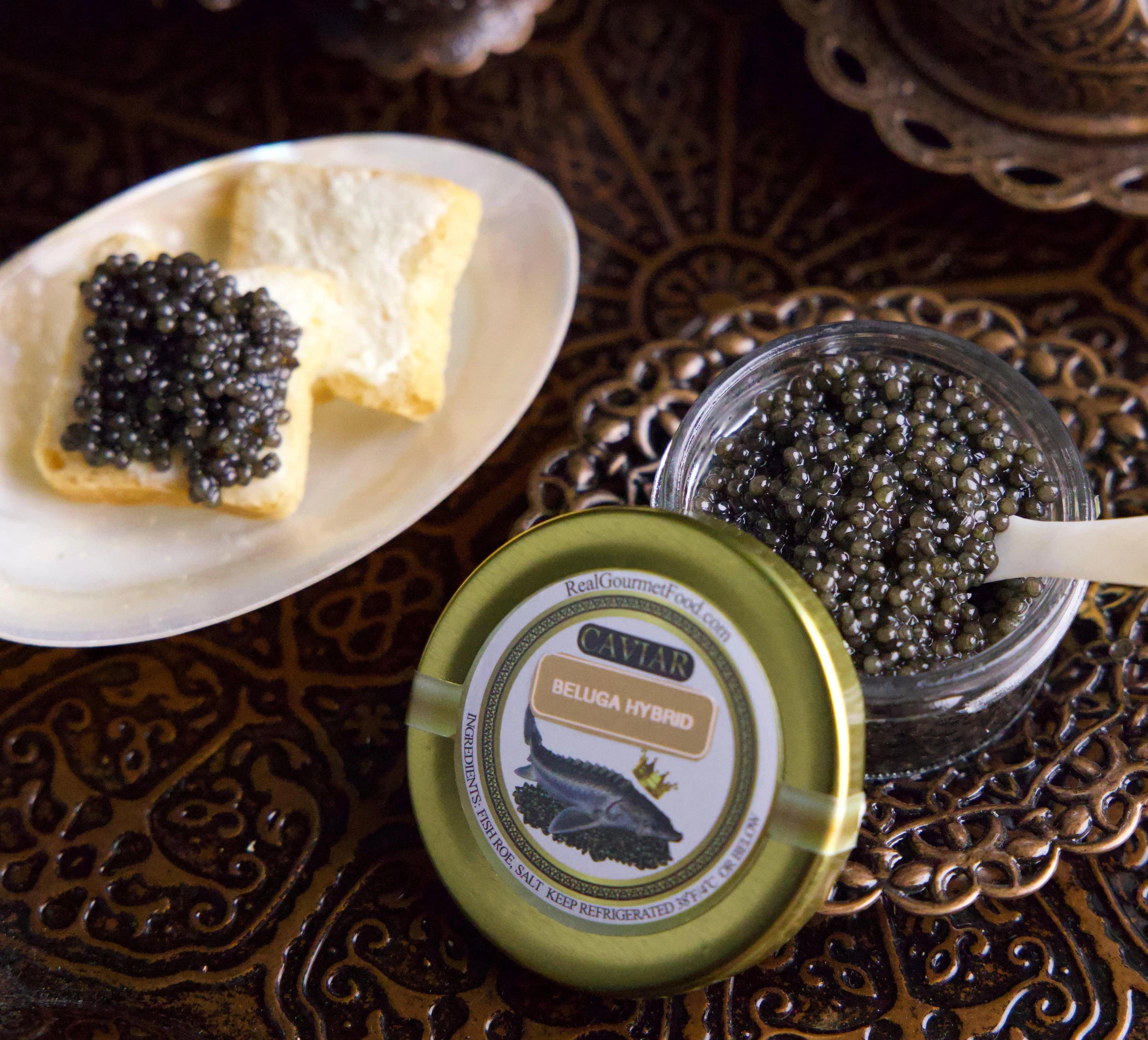 Products may slightly vary due to the nature of food item, lighting sources or computer monitor. Manufacturers may update packaging or change seasonally any time.
Beluga Hybrid Supreme Caviar
Buy more, save more per ounce!
$117.50 / oz
NOTE: All perishable products ship overnight by default. Overnight shipping comes with a premium price. Here's how to get FREE shipping. CLICK HERE
Have a Question?
Description
Beluga Hybrid Caviar
The combination of Beluga sturgeon eggs, and Siberian sturgeon roe produces medium to large firm beads with a smooth silky texture containing bold nutty and buttery flavors that are perfect for serving on your finest spread in fine crystal or on top of blinis or toast points.
Beluga Hybrid caviar is a cross between the Beluga and Siberian sturgeon species, originally created to enhance Beluga's notoriously low yields.  The Hybrid Beluga Caviar is premium caviar with the flavor and texture of Siberian Sturgeon Caviar, but the size and color of Beluga. This delicious delicacy will add a special touch to every occasion.
Long-term partnerships with all supplying aquafarms allow our distributors to monitor the entire process from harvest to the product's delivery to our customers. 
Packaging
Jar / Tin
Preparation
Fresh, Cured with Salt
Shelf Life Refrigerated
4 to 6 weeks
Storage Type
Only Refrigerated (do not freeze)
Shipping
The product is perishable and will be shipped via Overnight shipping
Origin
Qiandoa Lake
Raised

Farmed
Color
dark grey
Flavor
Milder buttery note with a hint of the earthy and nutty tones
Species
Huso huso x Acipenser baerii
Sizes for sampling
offered in:
0.5 to 2.0 oz
Thaw
If ever frozen, thaw In the fridge, slowly. Never thaw at room temperature. Never cut into frozen caviar with a knife or pick at frozen caviar.
Storage
1 Month Refrigerated 38°F / 4°C, Unopened. Do not freeze or refreeze. Consume within 3 days of opening.