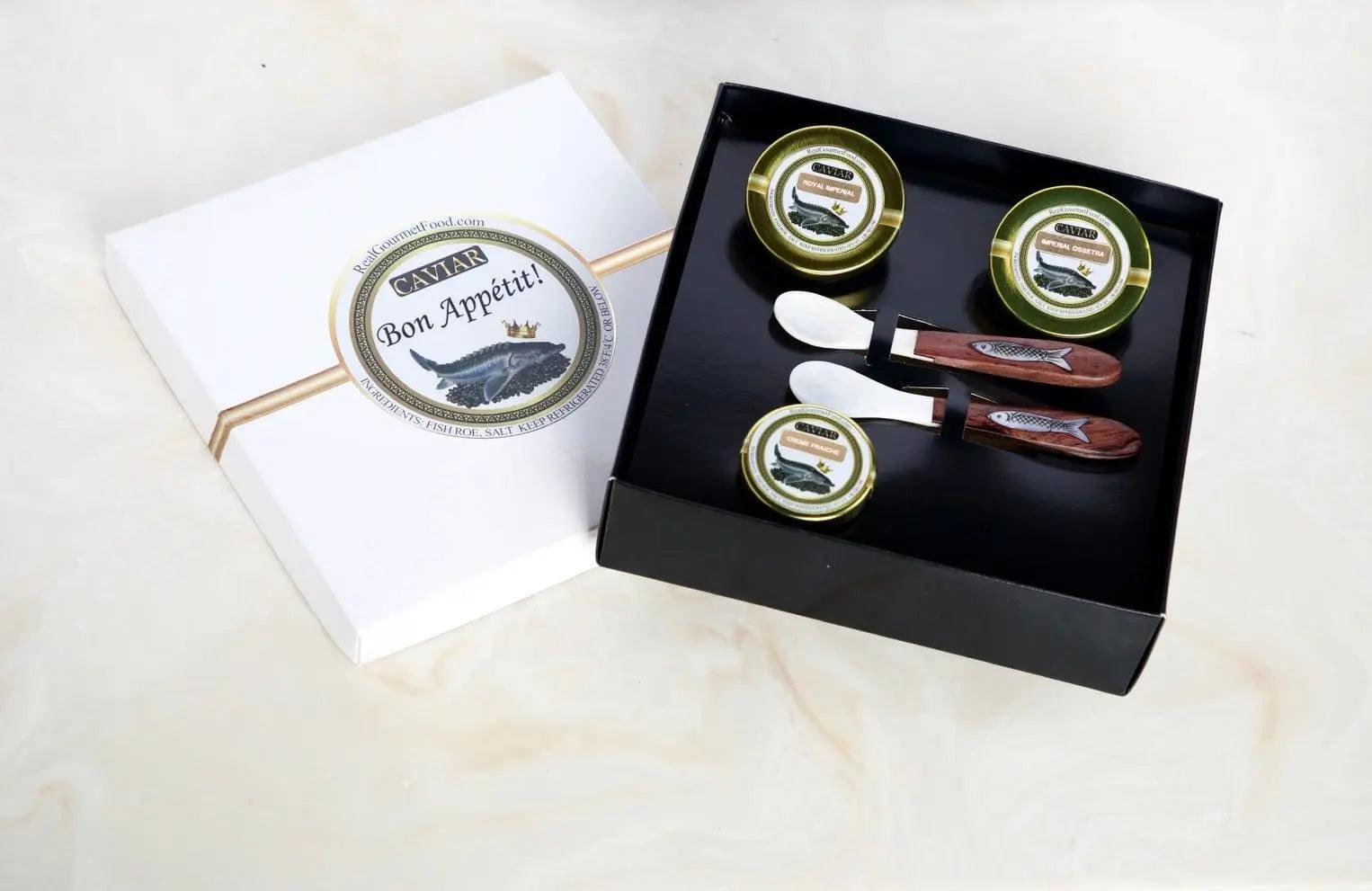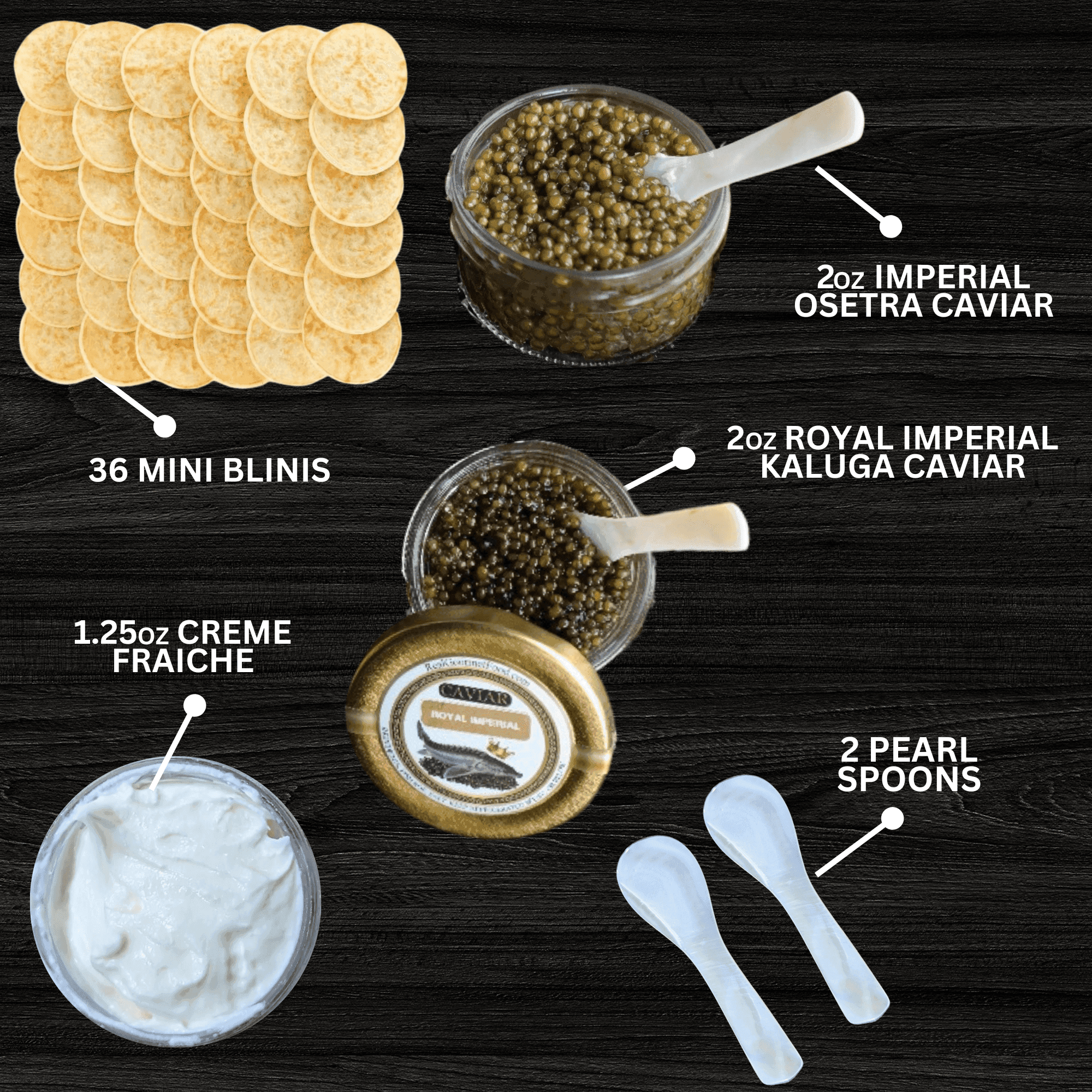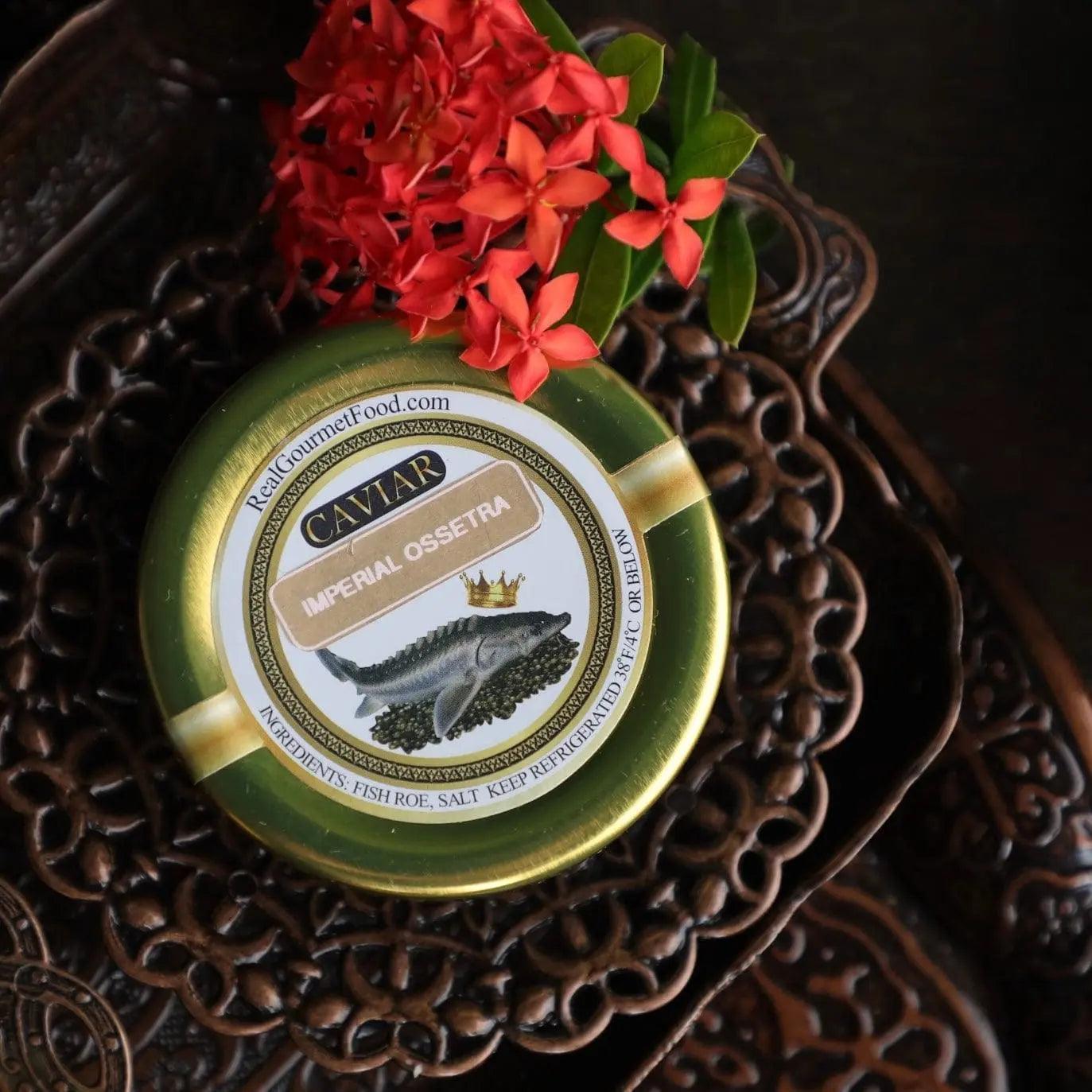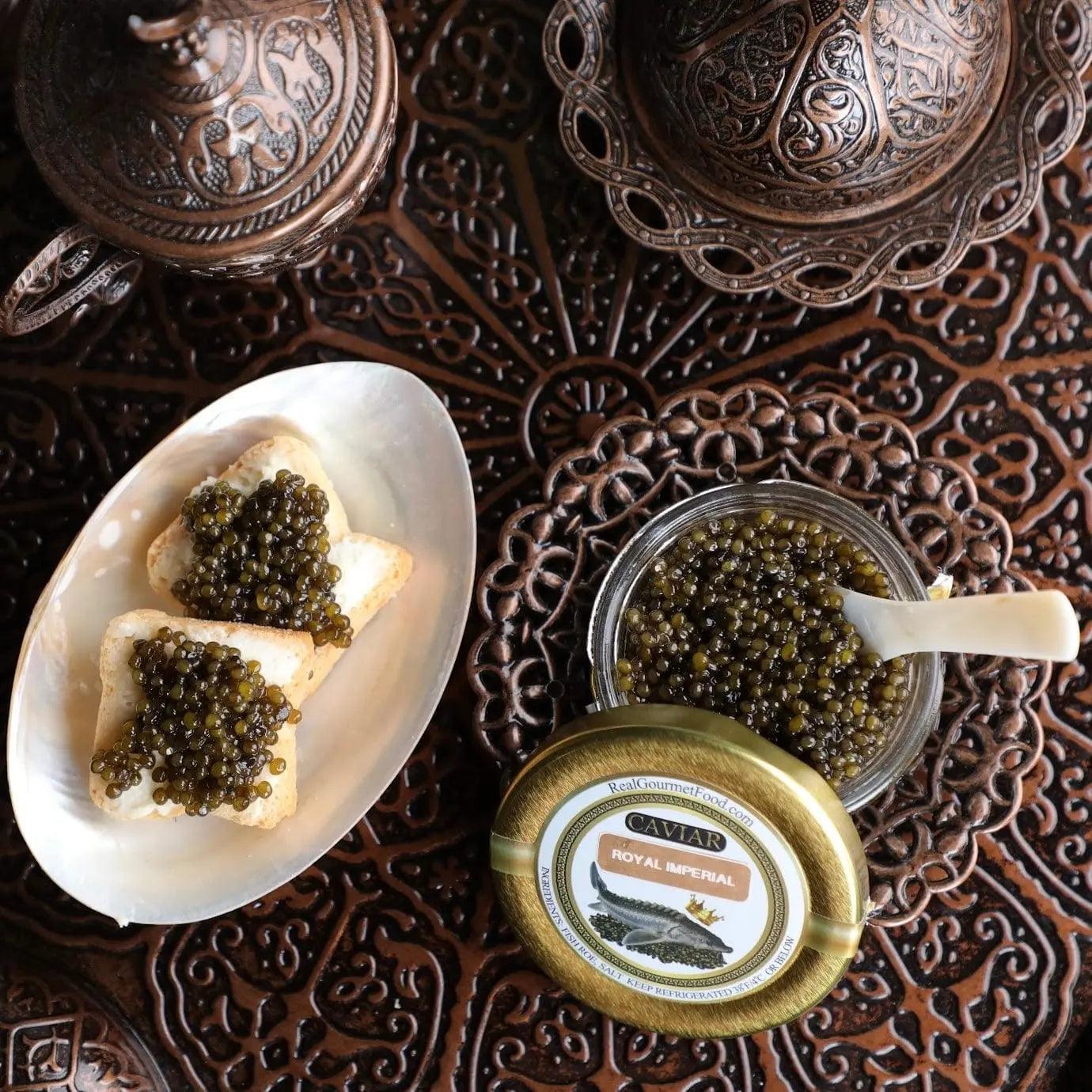 Products may slightly vary due to the nature of food item, lighting sources or computer monitor. Manufacturers may update packaging or change seasonally any time.
Imperial Legacy: Kaluga & Osetra Duo
Regular price
$460.00
$400.00
Subscription • Save
NOTE: All perishable products ship overnight by default. Overnight shipping comes with a premium price. Here's how to get FREE shipping. CLICK HERE
Have a Question?
Description
Discover the epitome of luxury with our "Imperial Legacy: Kaluga & Osetra Duo" caviar gift set, a tribute to the storied histories and ancient practices of caviar harvesting and enjoyment.
Each pearl, a tender echo of tradition, unveils the luxurious essence of two of the world's most revered sturgeons, Kaluga and Osetra, epitomizing the refined art of caviar appreciation.
Together, they embody a symphony of flavors that elegantly dance upon the palate, orchestrating an exquisite journey through the diverse landscapes of caviar elegance. Gift or enjoy this extraordinary legacy, where each moment of indulgence celebrates the timeless luxury and revered tradition of the caviar connoisseur. Allow this exceptional duo to captivate your senses, elevating your culinary experience into a realm of unparalleled opulence and majestic delight.
Kaluga Caviar: a rare gem, presents larger, amber-hued grains that boldly capture the essence of the sea,  

Osetra Caviar: a timeless classic, offers a delightful contrast with its delicate grains and radiant allure.

Engage your senses with Kaluga's enchanting, buttery subtleties, harmoniously paired with the Osetra's tantalizing nutty nuances.
Together, they create a harmonious encounter of taste and texture, providing a caviar experience that tantalizingly unfolds with each divine moment. Allow this exceptional pairing to elevate your senses, transporting you into a realm of culinary delight that resonates with the luxury and mystique of the ocean's finest offerings.
The Imperial Legacy Caviar gift set includes 2oz of Royal Imperial Kaluga Caviar, 2oz of Imperial Osetra Caviar, 1.25oz of crème fraîche, 36 mini blinis, and 2 pearl spoons.
This is not just a gift—it's an unforgettable adventure of taste, making it an irresistibly compelling indulgence or a gift of unmatched elegance and extravagance.

 Packaging

Gift box

Preparation of Caviar

Fresh, Cured with Salt

Contents

Kaluga 2oz, Osetra 2oz, creme fraiche 1.25 oz, 36 mini blinis, 2 pearl spoons

Shelf Life Refrigerated

4 to 6 weeks. Consume within 3 days after opening.

Storage Type

Refrigerate caviar (Mini blinis refrigerate / toasts are pantry stable.)

Shipping

The product is perishable and will be shipped via Overnight shipping

Species

Royal Imperial Kaluga: Huso dauricus x Acipenser Schrenckii

Imperial Osetra: Acipenser Gueldenstaedtii

Thaw

If ever frozen, thaw In the fridge, slowly. Never thaw at room temperature. Never cut into frozen caviar with a knife or pick at frozen caviar.

Storage

1 Month Refrigerated 38°F / 4°C, Unopened. Do not freeze or refreeze if previously frozen. Consume within 3 days of opening.