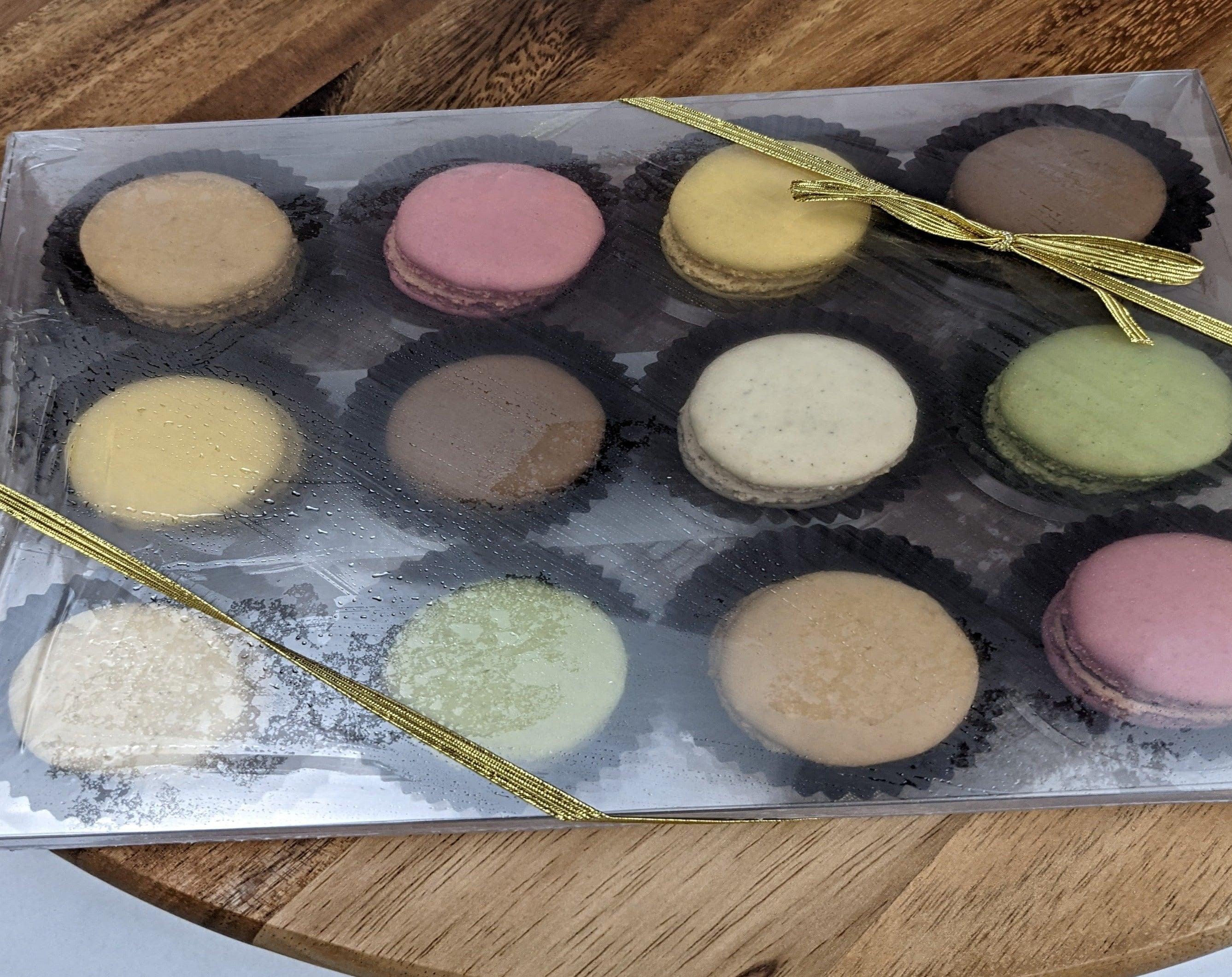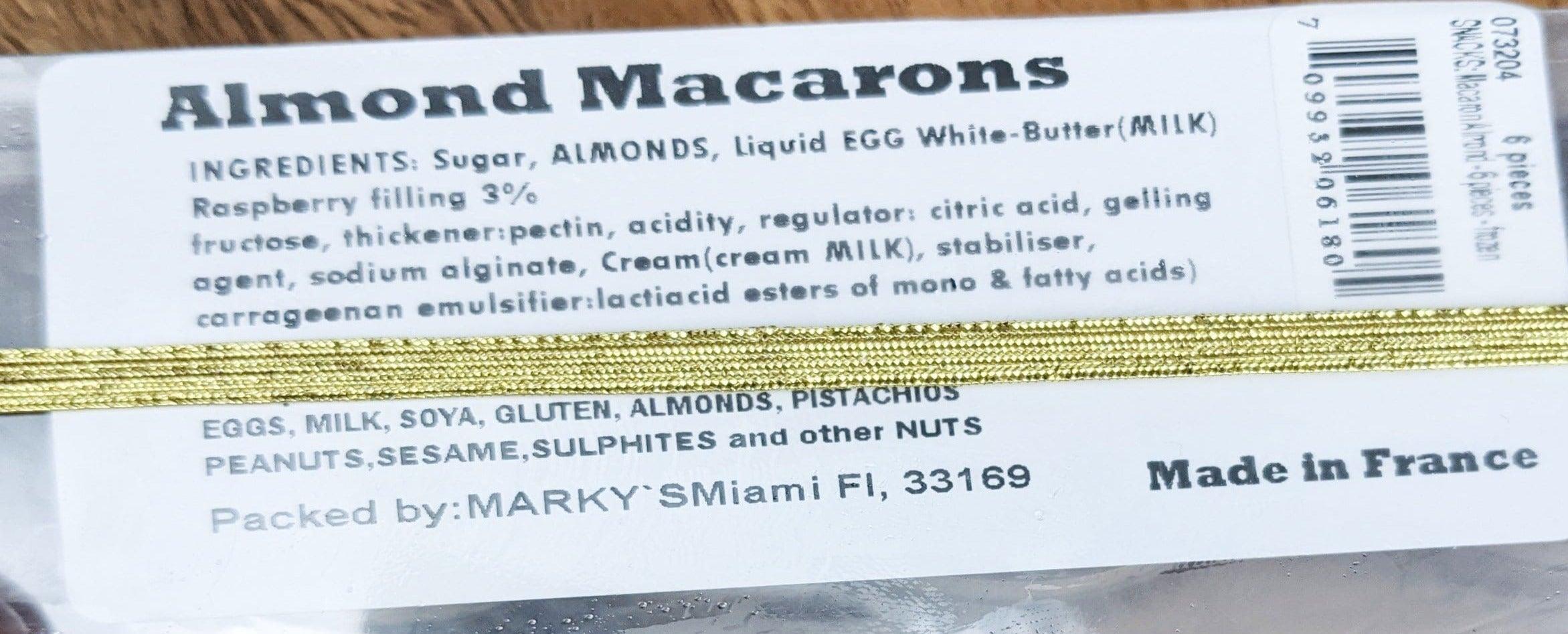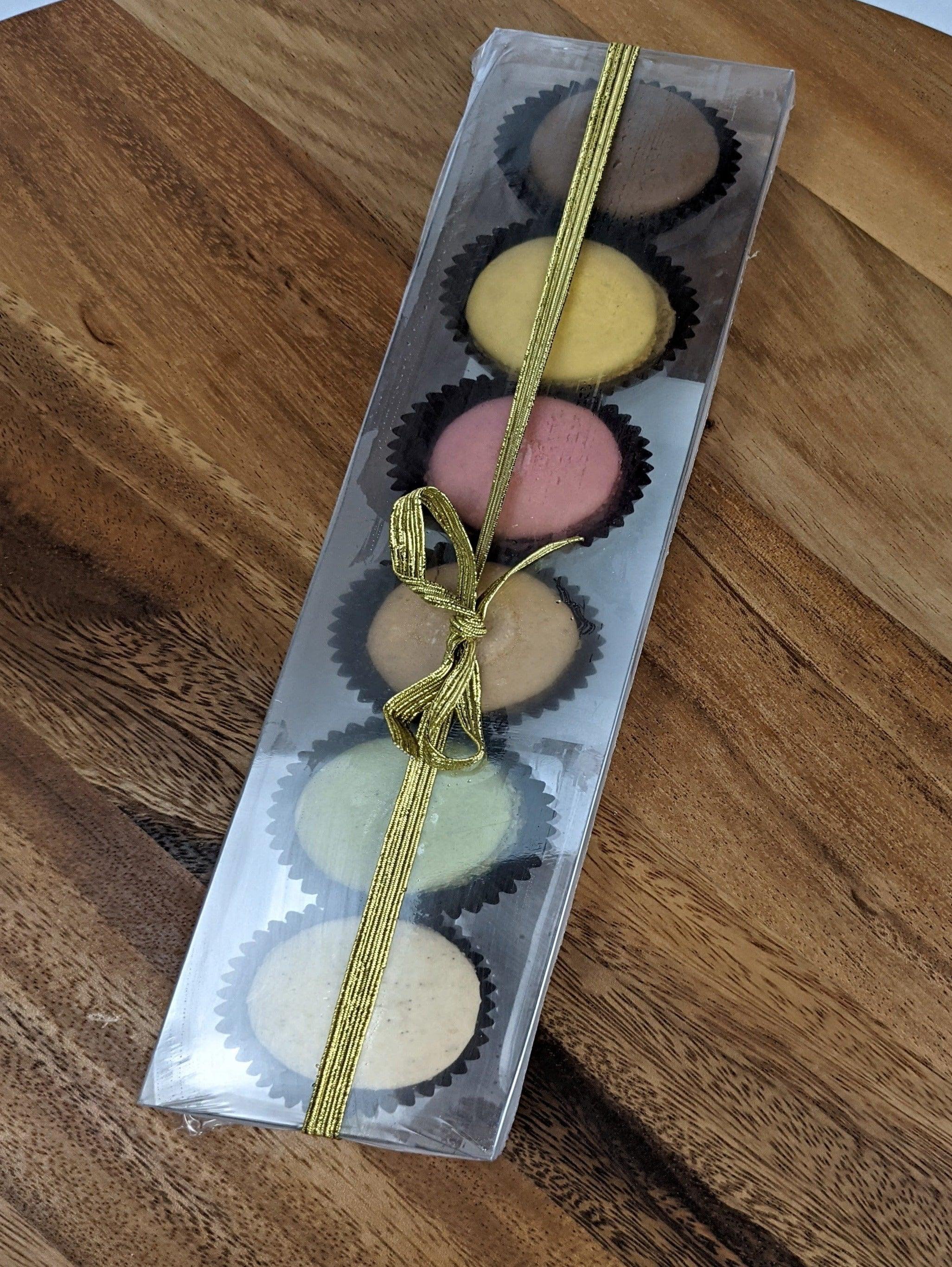 Products may slightly vary due to the nature of food item, lighting sources or computer monitor. Manufacturers may update packaging or change seasonally any time.
Almond Sweet Macarons by Pata Choux - FRANCE
NOTE: All perishable products ship overnight by default. Overnight shipping comes with a premium price. Here's how to get FREE shipping. CLICK HERE
Have a Question?
Description
Do All Macarons Pretty Much Taste the Same? 
Creating the perfect macaron takes a lot of mastery, patience, and a touch of love. 
Leave it to Pata Choux of France to get it all right!
We give these tasty Macarons 👍👍 (2 thumbs up) and here's why:
✔ Perfect round shape
✔ Airy Texture
✔ Crunchy shell
✔ Chewy filling 
✔ Excellent representation of flavors
Are you looking for a decadent dessert that will impress all the guests? You have found it! Fancy with that elegant Parisian touch to your decorating ideas. Uniquely flavored, beautifully colored, and amazingly crisp on the outside, soft and gooey on the inside, these French Macrons are a gourmet delight.

French Almond Macarons will melt in your mouth. Whether at home or at a festive party, this French macaron is the ultimate pleasure. These Delicious Macarons are gluten-free, low-calorie, and do not contain any artificial flavors or colors. You will love our Signature French Macarons. Treat yourself to a box today!

Enjoy with Earl Grey tea or your favorite coffee drink.
The 6 pack includes 1 Vanilla, 1 Pistachio, 1 Coffee, 1 Raspberry, 1 Lemon, and 1 Chocolate Macarons.
The 12 pack includes 2 Vanilla, 2 Pistachio, 2 Coffee, 2 Raspberry, 2 Lemon, and 2 Chocolate Macarons.
The 72 pack includes 12 Vanilla, 12 Pistachio, 12 Coffee, 12 Raspberry, 12 Lemon, and 12 Chocolate Macarons.
 ASSORTMENTS:
6 PK:         1 Chocolate / 1 Vanilla / 1 Pistachio / 1 Raspberry / 1 Lemon / 1 Coffee   
12 PK:       2 Chocolate / 2 Vanilla / 2 Pistachio / 2 Raspberry / 2 Lemon / 2 Coffee   
24 PK:    12 Chocolate / 12 Vanilla / 12 Pistachio / 12 Raspberry / 12 Lemon / 12                                                                                                                                    Coffee 
Note: 24 Pk comes frozen. Thaw unpackaged. Do not refreeze. 
| | |
| --- | --- |
| Ingredients: | sugar, ground almonds, egg whites, whipping cream (cream, carrageenan, lactic acid esters of mono- and diglycerides of fatty acids), lemon filling (lemon pulp, sugar, lemon juice, lemon concentrate, pectin, citric acid, ascorbic acid, lemon essential oil), Raspberry filling (raspberry pieces, sugar, glucose-fructose syrup[wheat], pectin, citric acid), butter, cornstarch, white chocolate filling (white chocolate (sugar, whole milk powder, cocoa butter, soy lecithin [emulsifier], natural vanilla flavor), canola oil), Chocolate (cocoa mass, sugar, cocoa butter, soy lecithin [emulsifier]), Chocolate (Sao Tome cocoa mass, sugar, soy lecithin [emulsifier]), whole eggs, almond puree, pistachio paste (pistachios, sugar syrup, water), water, dehydrated beet (for color), caramel (for color), turmeric oleoresin (for color), natural vanilla flavor, glucose syrup(wheat), malted barley extract, whole milk powder, modified cornstarch, natural coffee flavor, spirulina extract color, cocoa powder, invert sugar syrup, citric acid, triethyl citrate, sodium alginate, xanthan gum, disodium phosphate, exhausted vanilla seeds. Contains egg, milk, soy, wheat, almond, and pistachio. May contain other tree nuts. |
| Manufacturer: | Patachoux |
| Origin: | France |
| Allergy and Cautionary Information: | Contains almonds |
| Brand: | Pata Choux |