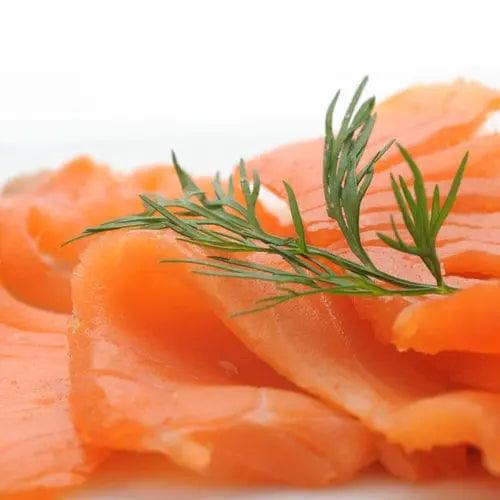 Smoked Salmon: Sliced, Skinless - SCOTLAND
NOTE: All perishable products ship overnight by default. Overnight shipping comes with a premium price. Here's how to get FREE shipping. CLICK HERE
Have a Question?
Description
What is Scotch Reserve?
It is the result of a classic product steeped in centuries-old Scottish tradition. Crafted in their 'AA' BRCGS accredited plant in the Scottish lowland borough of Annan, St. James brings us this ultra premium quality smoked salmon. Each fillet is cured with a blend of pure sea salt and brown sugar, then smoked over smoldering oak wood chips. 

This product is sliced , skinless salmon / lox with amazing flavor and texture. Nestled on the banks of the River Cree in the Scottish Lowlands, These Scottish smoked salmons are of unsurpassed quality. 
Scotland is world-famous for its smoked fish. This Scottish smoked salmon is characterized by a more orange-pink color and a tender, delicate flesh, with a less smoky flavor. This product comes pre-sliced.
Award winning, St. James, known as the smoked salmon perfectionists, produce smoked salmon products with a rich smokiness and a sea-salty sweetness that will waken the taste-buds and leave you begging for more. 

We proudly carry their: Scotch Reserve, Nordic Reserve, Nordic Choice, and Saint Pure. 
| | |
| --- | --- |
| Skin: | Skinless |
| Sliced: | Sliced |
| Type: | Scotch Reserve |
| origin: | Scotland |
| Packaging:  | Vacum pack |
| Vendor | St. James |