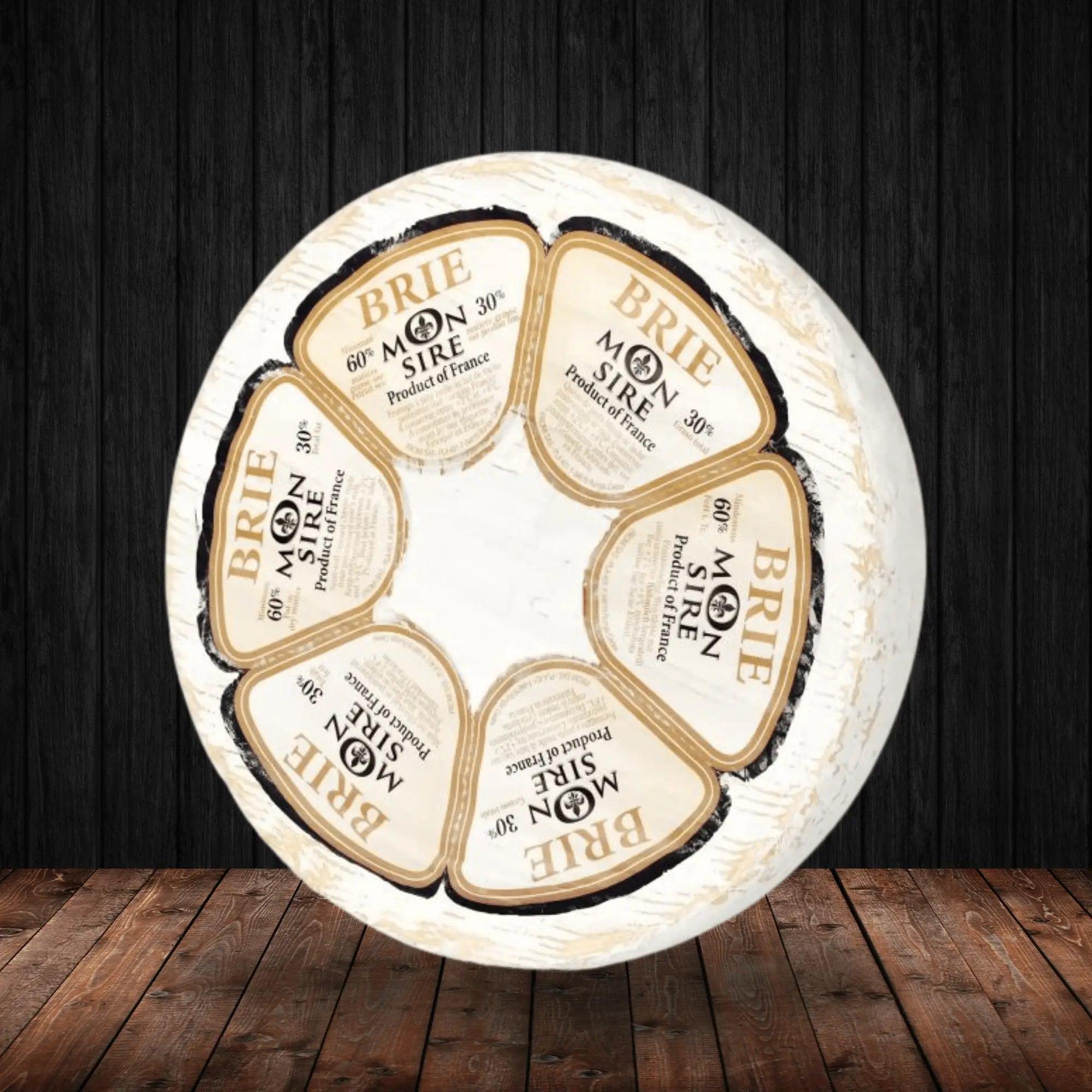 Mon Sire Cheese Wheel - FRANCE
Regular price
$173.00
$129.00
Subscription • Save
NOTE: All perishable products ship overnight by default. Overnight shipping comes with a premium price. Here's how to get FREE shipping. CLICK HERE
Have a Question?
Description
French artisanal recipe 
Keep refrigerated
Indulge in the creamy, velvety delight of Mon Sire Brie, a masterpiece of French cheese craftsmanship. Our Brie, crafted from the finest cow's milk, offers an exquisite sensory experience that will elevate any occasion.

Taste Profile: Mon Sire Brie boasts a luxurious, buttery texture with a delicate white rind that gives way to a lusciously creamy interior. Its mild, yet distinct, flavor profile offers notes of fresh cream and hints of earthiness, making it a versatile choice for both connoisseurs and newcomers to the world of gourmet cheeses.
Pairing Recommendations:
Fresh Fruits: Complement the Brie's creaminess with slices of ripe pears, crisp apples, or juicy grapes. The interplay of sweet and savory is simply divine.
Crackers and Baguette: Serve your Brie on a bed of crisp crackers or slices of fresh, crusty baguette for a satisfying crunch.
Honey and Nuts: Drizzle honey over your Brie for an exquisite sweet touch, and add a handful of toasted nuts for a delightful contrast in texture and flavor.
Chardonnay or Champagne: Pair with a glass of Chardonnay or Champagne to elevate your tasting experience and create a harmonious symphony of flavors.
How to Enjoy: Mon Sire Brie is a versatile cheese that can be savored in various ways:
Straight from the Wheel: Simply slice into the creamy center and enjoy it as is for a pure, unadulterated experience.
Baked Brie: Warm your Brie in the oven until it becomes molten inside, then serve it with your favorite accouterments for a delectable appetizer.
Charcuterie Board: Feature Mon Sire Brie as the star attraction on your charcuterie board, surrounded by an array of complementary delights.
Sandwiches and Wraps: Add slices of Brie to your sandwiches or wraps to infuse them with an irresistible creaminess.
Salads: Toss small wedges of Brie into salads.
| | |
| --- | --- |
| Weight: | 7.7 lb |
| Vendor: | Mon Sire |
| Country: | France |