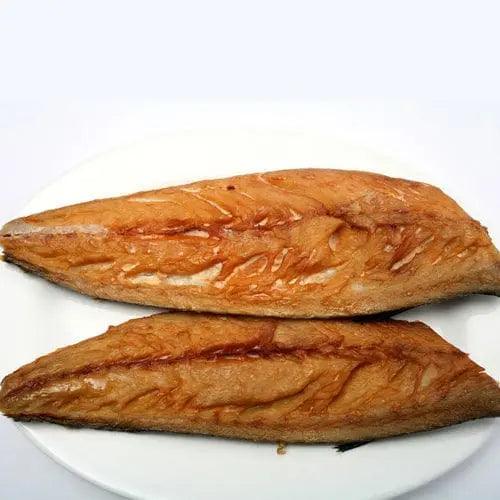 Introducing our new product: Smoked Peppered Mackerel! 🐟
Get ready for a special pepper kick with every bite! Our Smoked Peppered Mackerel is a European tradition that's been slowly smoked and seasoned to perfection. 💥
Enjoy it as a main dish, with crackers and cheese, or as a topping for a salad. The possibilities are endless! Pair it with a crisp white wine or a light beer for a delicious taste experience. 🍷🍺
Not only is it delicious, but Smoked Peppered Mackerel is also a great source of protein, omega-3 fatty acids, and other essential vitamins and minerals. 💪
Mackerel is a healthy fish known for its high nutritional value. It contains omega-3 fatty acids, which are essential for brain function, heart health, and reducing inflammation in the body. Mackerel is also a good source of protein, vitamin D, vitamin B12, and selenium, making it a great addition to a healthy diet.
Our Smoked Peppered Mackerel is perfect for holidays, special occasions, or just a tasty snack. 🎉 Its smoky, peppery flavor is sure to impress your guests and leave you wanting more. Plus, it's incredibly easy to prepare - simply slice it and serve!
So, if you're looking for a delicious and healthy addition to your meal, try our Smoked Peppered Mackerel today! 🤤
Here are some ideas on how to serve Smoked Peppered Mackerel:
As a main dish: Serve Smoked Peppered Mackerel as the main dish alongside some garden vegetables and homestyle potatoes for a healthy and flavorful meal.

As a salad topping: Add sliced Smoked Peppered Mackerel to your favorite leafy salad for a healthy and flavorful protein boost.

In a sandwich: Create a delicious sandwich by adding sliced Smoked Peppered Mackerel to some bread with lettuce, tomato, and your favorite condiments.

In pasta: Add sliced Smoked Peppered Mackerel to your favorite pasta dish for an extra burst of flavor and protein.

With eggs: Serve Smoked Peppered Mackerel with scrambled eggs or as a topping for a delicious breakfast or brunch.
Mackerel has been a popular food source for centuries, and has been a staple in many cultures around the world. In Europe, mackerel has been eaten for generations, particularly in coastal areas where the fish is plentiful.
 Consume
 3-4 days after opening
 Storage
Refrigerate or freeze. Up to 3 months frozen. If freezing open product, best to 

wrap it tightly in plastic wrap and then foil to prevent freezer burn.