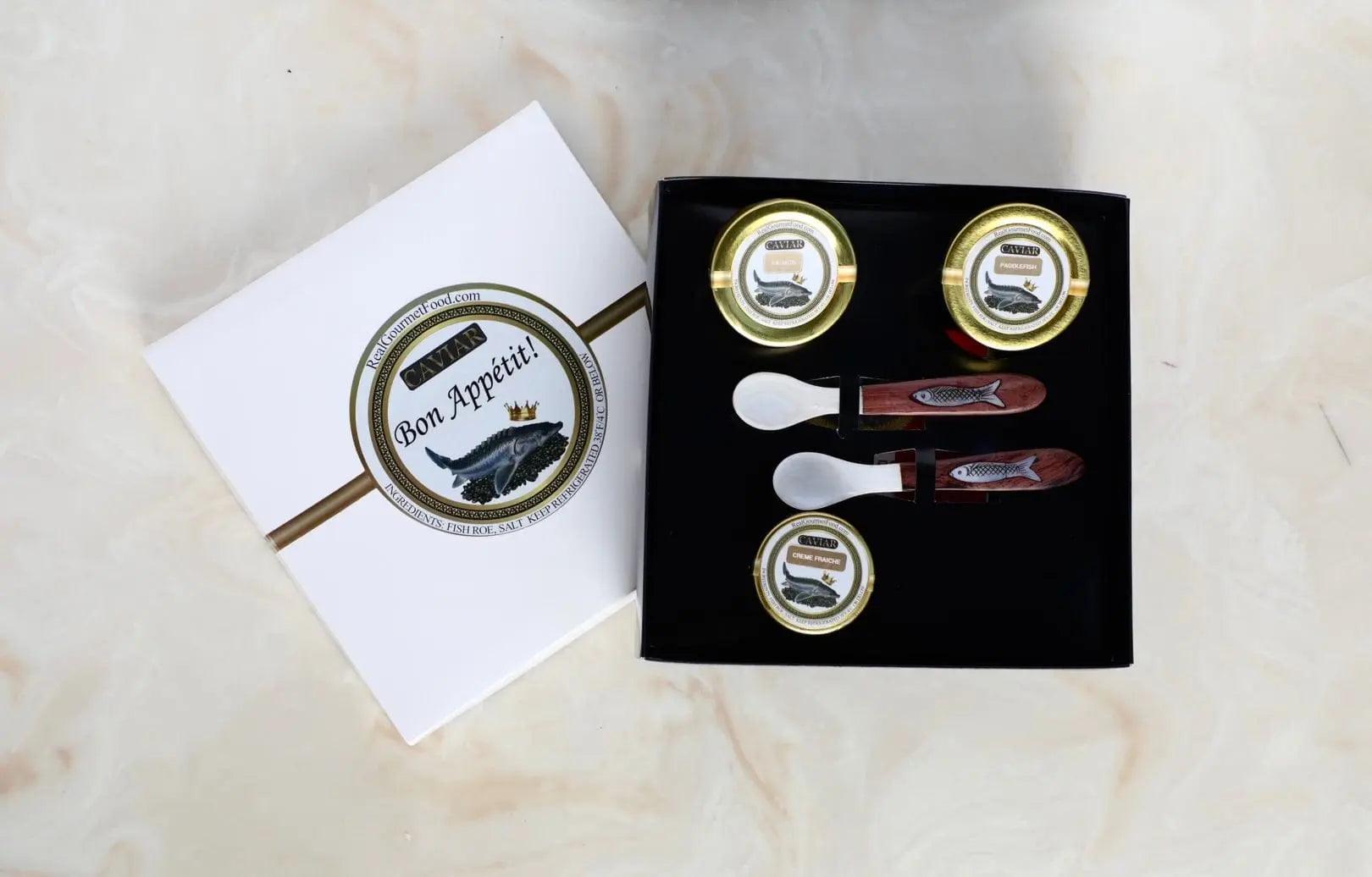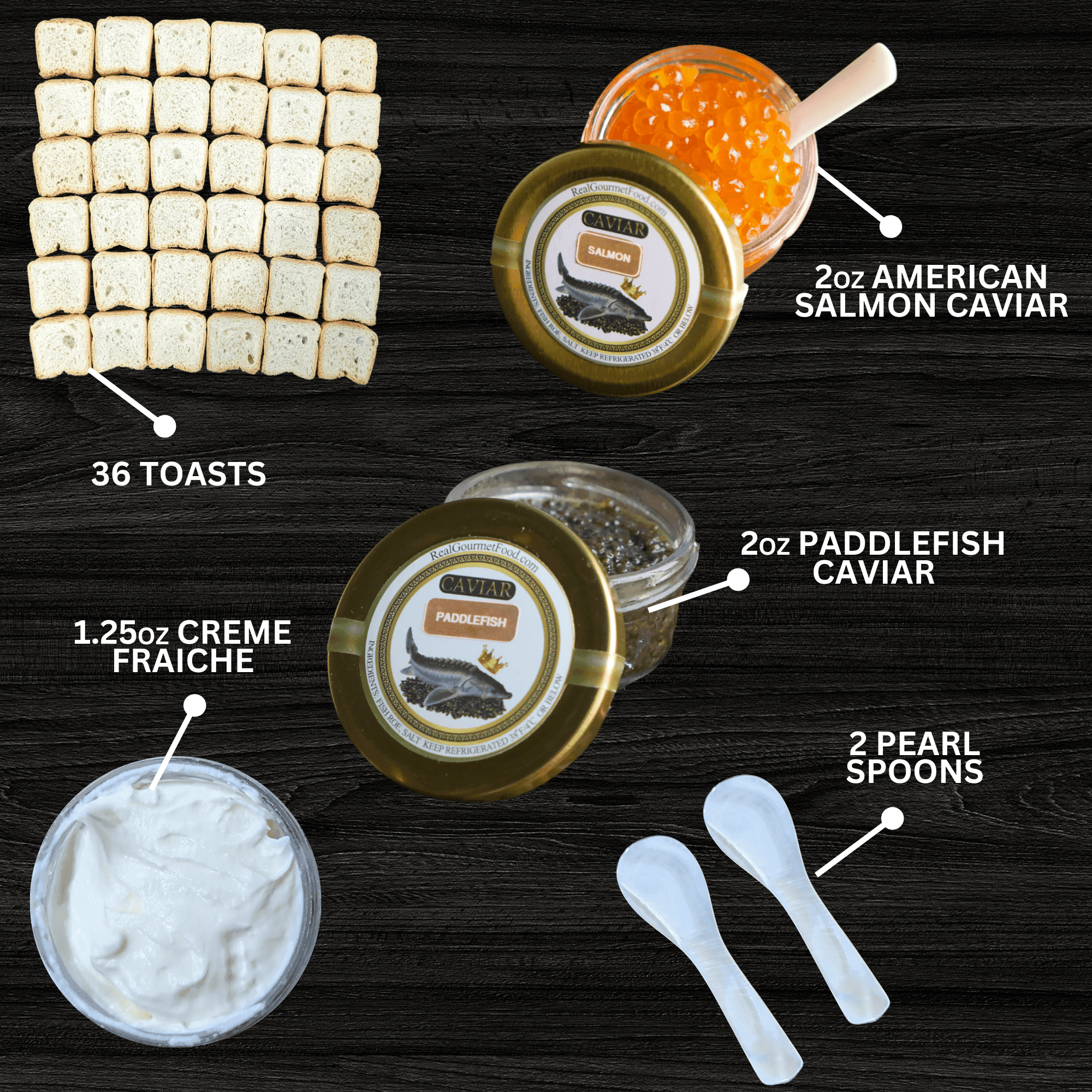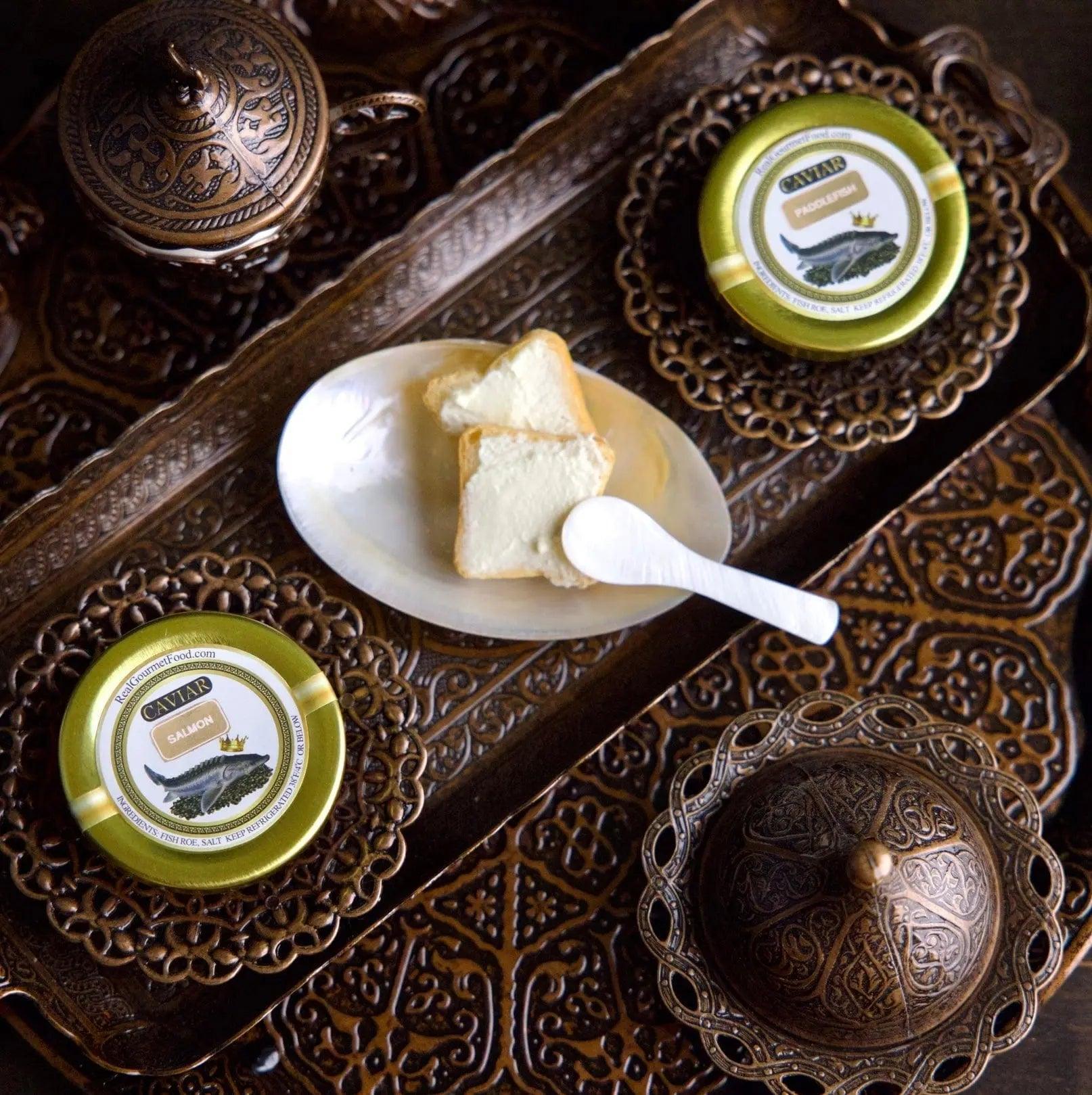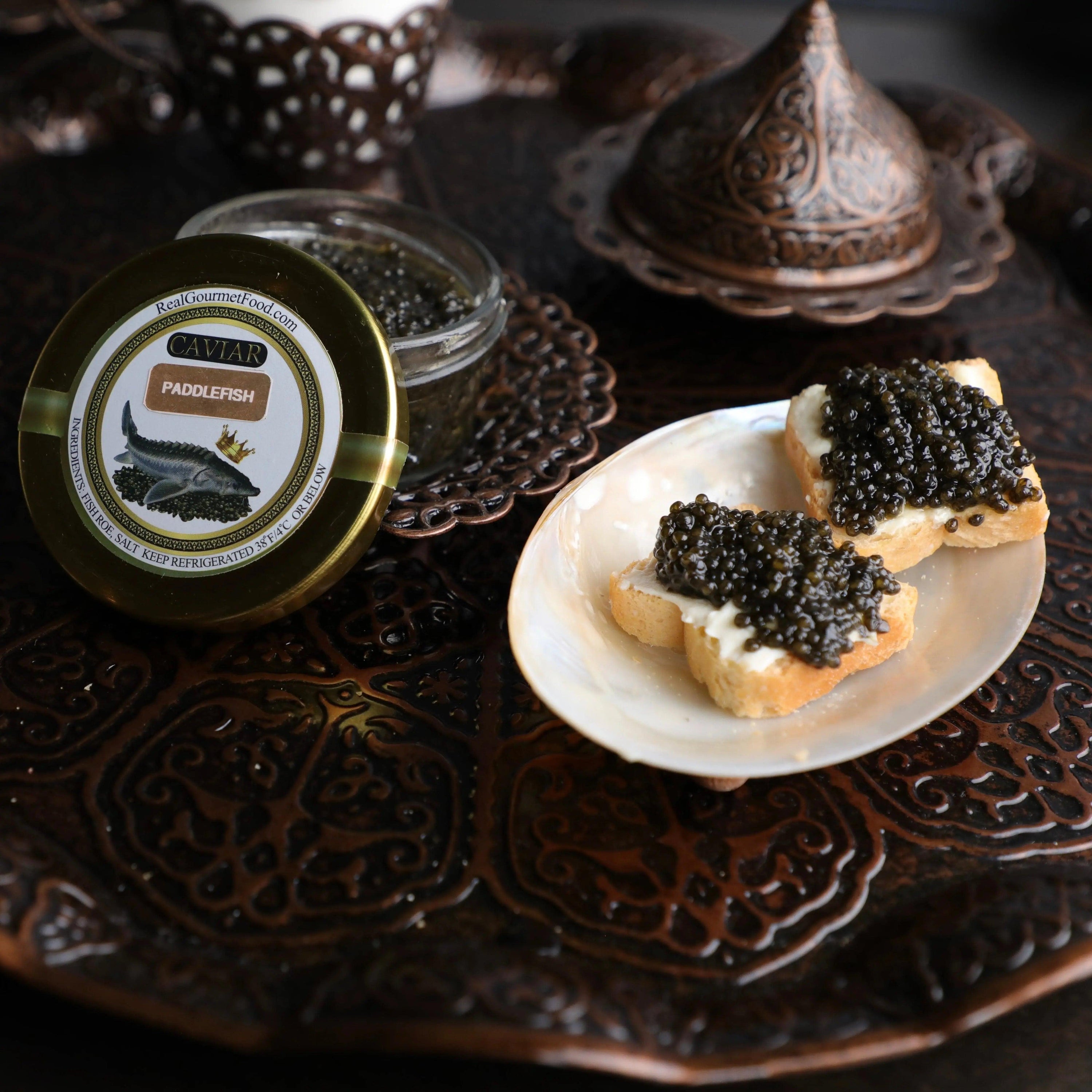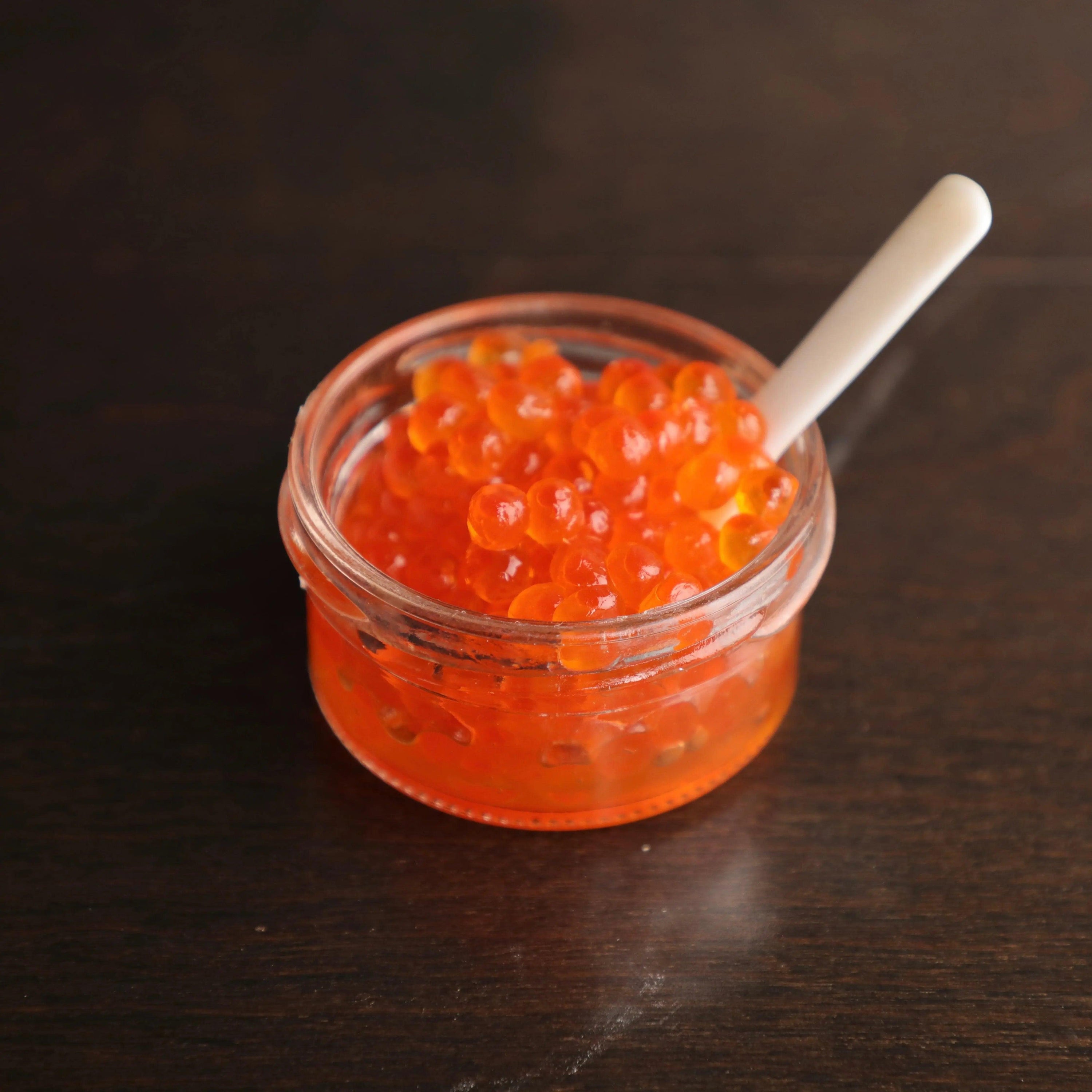 Products may slightly vary due to the nature of food item, lighting sources or computer monitor. Manufacturers may update packaging or change seasonally any time.
America Voyage: Salmon and Paddlefish Duo
Regular price
$149.50
$130.00
Subscription • Save
NOTE: All perishable products ship overnight by default. Overnight shipping comes with a premium price. Here's how to get FREE shipping. CLICK HERE
Have a Question?
Description
Give the gift of an 'America Voyage' with our Salmon and Paddlefish Duo. This collection features 2oz of exquisite American salmon caviar, 2oz of rich Paddlefish caviar, 1.25oz of creamy creme fraiche, 36 crispy toasts, and two genuine pearl spoons, elegantly presented in a beautiful glossy box.
Ideal for celebrating special occasions such as birthdays, anniversaries, engagements, weddings, thinking of you gifts, thank you gifts, or business gifts,  and graduations. Create unforgettable romantic evenings or pay homage to America's waters with this taste of it's finest wild caught caviars, a meaningful gift for patriots and those who serve our country.
The Salmon Caviar: This caviar captures the vibrant and resilient spirit of the American wilderness. It echoes the salmon's upstream journey, a symbol of determination and perseverance. It is a celebration of the pristine rivers and the rugged landscapes that have long defined the American legacy.
The Paddlefish Caviar: This caviar, with its delicate, silky pearls, reflects the quiet elegance of the country's heartland. The Paddlefish's journey through tranquil waters and the artisanal craft of local harvesters harmonize in every bite. It's a tribute to the land's innate wisdom and grace, where nature's teachings are embraced and revered.
Together, the wild-caught American Voyage Caviar Duo is a culinary celebration of  America's waters, from the untamed rivers of the Pacific Northwest to the serene heartland waters. Each bite is a tribute to the world beneath the waves, reflecting the essence of an American Voyage through flavors of the seas. 
 Packaging

Gift box

Preparation of Caviar

Fresh, Cured with Salt

Contents

Keta 2oz, Paddlefish 2oz, creme fraiche 1.25 oz, 36 mini toasts, 2 pearl spoons

Shelf Life Refrigerated

4 to 6 weeks. Consume within 3 days after opening.

Storage Type

Refrigerate caviar (Mini blinis refrigerate / toasts are pantry stable.)

Shipping

The product is perishable and will be shipped via Overnight shipping

Species


Paddlefish: Polyodon Spathula

American Salmon Caviar: Oncorhynchus Keta

Thaw

If ever frozen, thaw In the fridge, slowly. Never thaw at room temperature. Never cut into frozen caviar with a knife or pick at frozen caviar.

Storage

1 Month Refrigerated 38°F / 4°C, Unopened. Do not freeze or refreeze if previously frozen. Consume within 3 days of opening.