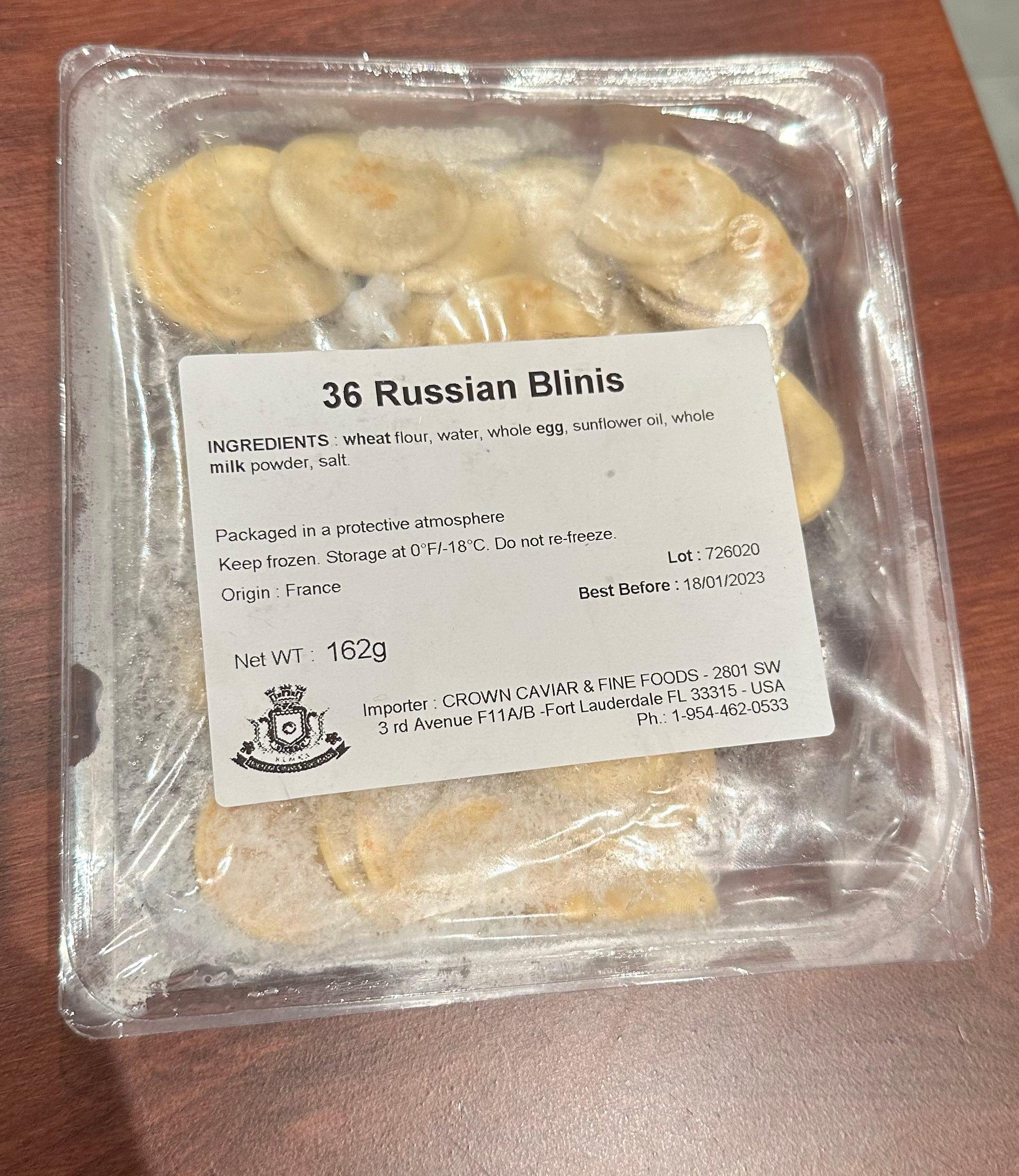 Russian Original Handmade Mini Blinis - FRANCE
Have a Question?
Description
Get ready to tantalize your taste buds with these delicious Russian Mini Blinis, made in France! These irresistible delicacies have a rich history and are the ultimate desire for all food lovers looking for something new and unusual that's quick and easy to serve. 
The word "blini" is derived from the Old Slavic word "blinu," which means "to fry." These Russian pancakes date back to ancient times and were originally made from buckwheat flour. Over time, the recipe has evolved, and blinis are now made from wheat flour and served as a staple dish in Russian cuisine.
Made from premium quality flour, these blinis are uniquely light and airy, making them the perfect canvas for creative flavor combinations.
👨‍🍳 These are not your average pancakes - they're a taste of Russia's most famous dish that will take your culinary experience to the next level. These blinis are incredibly versatile in the kitchen, making them the perfect addition to any meal of the day. 🍴 Serve them with sweet fruits and jams or top them with caviar or lox, or stack them with smoked salmon, creme fraiche, and herbs for a delicious and satisfying meal.
🎉 Blinis are traditionally served during Maslenitsa, an old world Eastern-European holiday that marks the end of winter and the beginning of spring. They are also a popular dish during other festive occasions, such as weddings and birthdays.
👉 So, whether you're a foodie or just looking to try something new and exciting, our handmade Blinis are the perfect choice. Get ready to indulge in the blini scene and elevate your culinary experience today! 🍴🥞
| | |
| --- | --- |
| Ingredients: | Wheat Flour, whole milk powder, egg, oil, and salt |
| Net weight: | 5.71 oz |
| Origin: | France |
| Manufacturer: | Bemka |
| Packaging: | Vacuum Pack |
| Shipping: | Product is perishable and will be shipped Priority Overnight |
| Storage Type: | 6 Months, Frozen. Don't re-freeze.  |
Perfect
Perfect. Slightly toasted them.
Perfect
Perfect. Slightly toasted them.