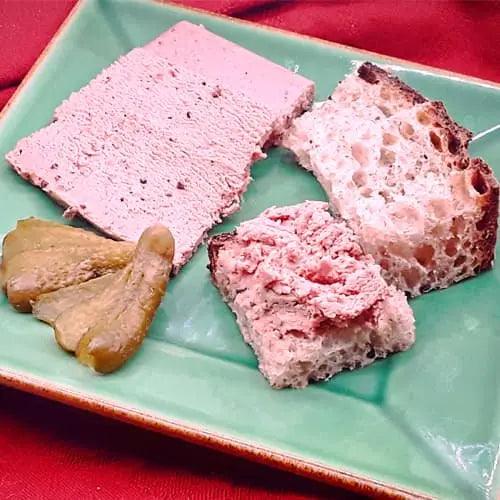 NOTE: All perishable products ship overnight by default. Overnight shipping comes with a premium price. Here's how to get FREE shipping. CLICK HERE
Indulge in Royalty with Le Bec Fin's Mousse Royale Pâté: A Duck Liver, Black Truffle & Brandy Delight
🎉 Introducing our new product: Mousse Royale Pâté! 🍴 This luxurious pâté is made with duck liver, black truffle, and French brandy to create a rich and decadent flavor. Perfect for spreading on crackers or stuffing into brioche, this pâté is sure to be the centerpiece of any fancy spread.
🍷 Pair this pâté with a crisp white wine for a sophisticated and delicious meal. The flavors of the pâté complement the wine's acidity and fruitiness, creating a harmonious balance that will delight your taste buds. Alternatively, pair it with a light beer or a glass of champagne for a festive and celebratory experience. 🍾
This Mousse Royale Pâté is perfect for special occasions like holidays, dinner parties, or intimate gatherings. Your guests will be impressed by the elegant flavors and presentation of this pâté. Serve it as an appetizer with crackers, fresh fruits, and nuts, or stuff it into brioche for a luxurious sandwich. The creamy texture of the pâté pairs perfectly with the crispy texture of the crackers or brioche, creating a symphony of flavors and textures in every bite. 🧀🥖🍇
🍴 Enjoy the ultimate indulgence with this Mousse Royale Pâté! 🎉 Whether you're celebrating a milestone or simply indulging in a little bit of luxury, Le Bec Fin's Mousse Royale Pâté is the perfect choice. So, treat yourself and your guests to this gourmet delight and savor the richness of the flavors. 🤤
Not only is our Mousse Royale Pâté delicious, but it is also packed with nutrients. Duck liver is a rich source of vitamins and minerals, including iron, zinc, and vitamin A. It also contains healthy fats and protein, which are essential for maintaining a healthy diet. The addition of black truffle and brandy adds a depth of flavor to the pâté while providing antioxidants and anti-inflammatory properties. 🍇
The tradition of making pâté can be traced back to ancient Rome and has been a popular dish throughout European cuisine for centuries. Pâté was originally made with various meats, but the French popularized the use of liver, specifically foie gras, and added herbs, spices, and alcohol to create unique and delicious flavors. Today, pâté remains a popular dish for special occasions and celebrations, and is often enjoyed as an appetizer or a luxurious snack.
| | |
| --- | --- |
|  Weight: | 5 oz |
| Vendor: | Le Bec Fin |
| Country: | USA |