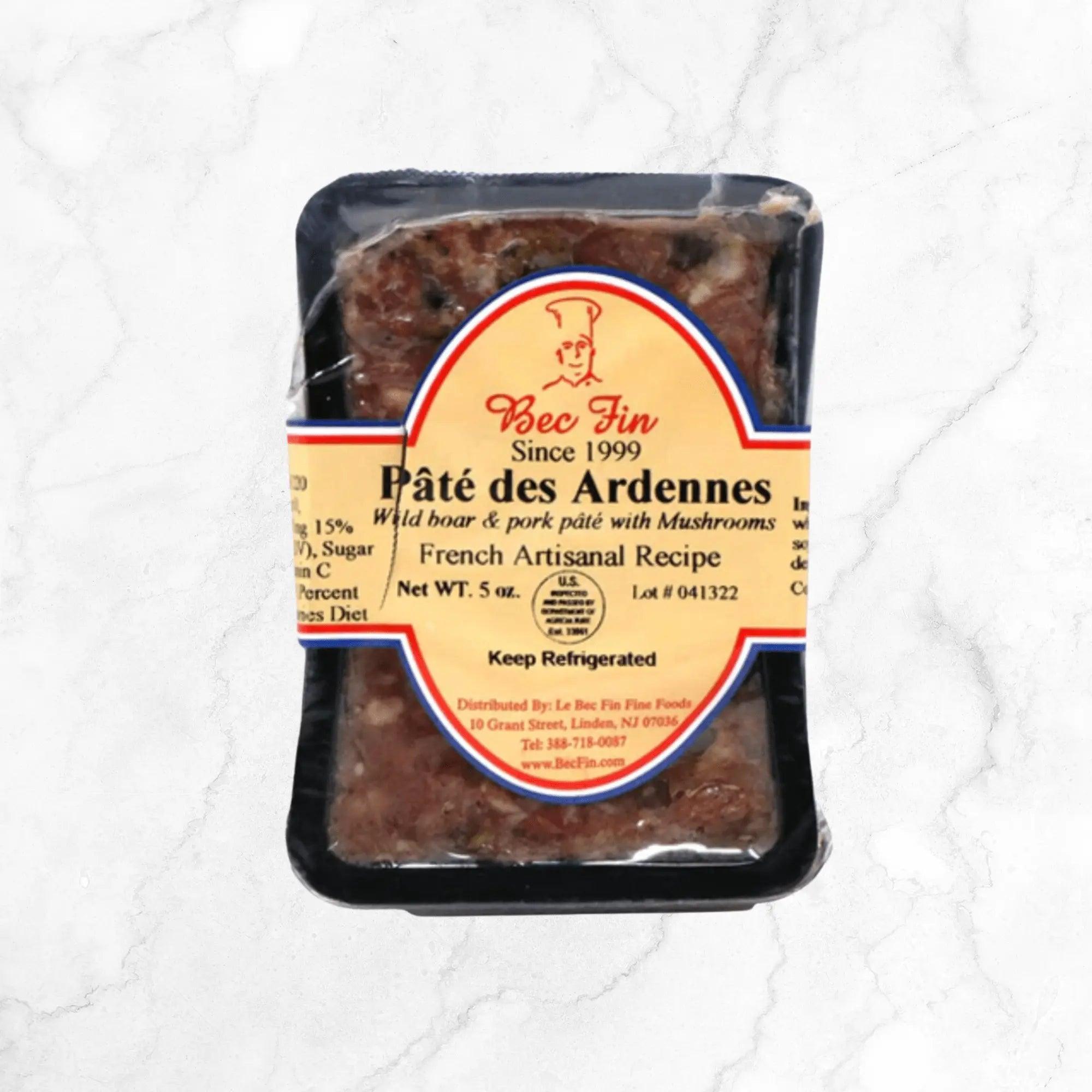 NOTE: All perishable products ship overnight by default. Overnight shipping comes with a premium price. Here's how to get FREE shipping. CLICK HERE
Have a Question?
Description
Terrine with a combination of Wild Boar & pork meat with wild mushrooms and Port wine
Introducing our exquisite Terrine, a culinary masterpiece that combines the rich flavors of wild boar and succulent pork meat with the earthy goodness of wild mushrooms and the luxurious touch of Port wine. Crafted with passion and expertise, this delectable creation is a true delight for the senses.
🌿Wild Boar & Pork Terrine with Wild Mushrooms and Port Wine🍷
🍽️ Savor the Flavor: Indulge in the harmonious marriage of wild boar and pork, where the hearty, gamey notes of wild boar meld seamlessly with the tender, savory pork, creating a symphony of flavors. The addition of wild mushrooms adds depth and earthiness, while the infusion of Port wine imparts a delightful sweetness and a touch of sophistication.
🍷 Pairing Perfection: To fully appreciate the sublime flavors of our Terrine, we recommend pairing it with complementary beverages. Here are some suggestions:
Red Wine: A robust red wine, such as a Bordeaux or a Pinot Noir, will enhance the rich meatiness of the Terrine and complement the Port wine infusion.

Port Wine: For a match made in heaven, enjoy your Terrine with a glass of Port wine. The sweet, fortified wine echoes the flavors within the Terrine, creating a harmonious pairing.

Craft Beer: Opt for a dark and malty beer like a Stout or a Porter. The roasted malt flavors will contrast beautifully with the Terrine's meatiness.

Crusty Bread: Serve the Terrine on a slice of crusty bread, and you'll have a delightful appetizer or light meal that's perfect for sharing with friends or family.
🍴How to Enjoy: Indulging in our Wild Boar & Pork Terrine is a culinary experience like no other. Here's how to savor every bite:
Slice & Serve: Cut thin slices of the Terrine, allowing the aromas to waft gently to your senses.

Texture Contrast: Pair the Terrine with a dollop of whole-grain mustard or a sweet fruit chutney for a delightful textural contrast.

Sip & Savor: Take a bite of the Terrine and follow it with a sip of your chosen beverage, allowing the flavors to meld on your palate.

Pairing Platter: Create a stunning charcuterie board featuring our Terrine, artisanal cheeses, fresh fruits, and assorted crackers for a gourmet feast.
🎁 The Perfect Gift: Our Wild Boar & Pork Terrine also makes for an exceptional gift for food enthusiasts and gourmands. Share the pleasure of this exquisite culinary creation with your loved ones, and they'll thank you for the delightful experience.
Experience the finest in wild game cuisine with our Wild Boar & Pork Terrine. Elevate your dining moments, celebrate special occasions, or simply treat yourself to a gourmet delight that will leave your taste buds dancing with joy. Order now and embark on a culinary journey that's truly unforgettable.
| | |
| --- | --- |
| Weight: | 5 oz |
| Vendor: | Le Bec Fin |
| Country: | USA |