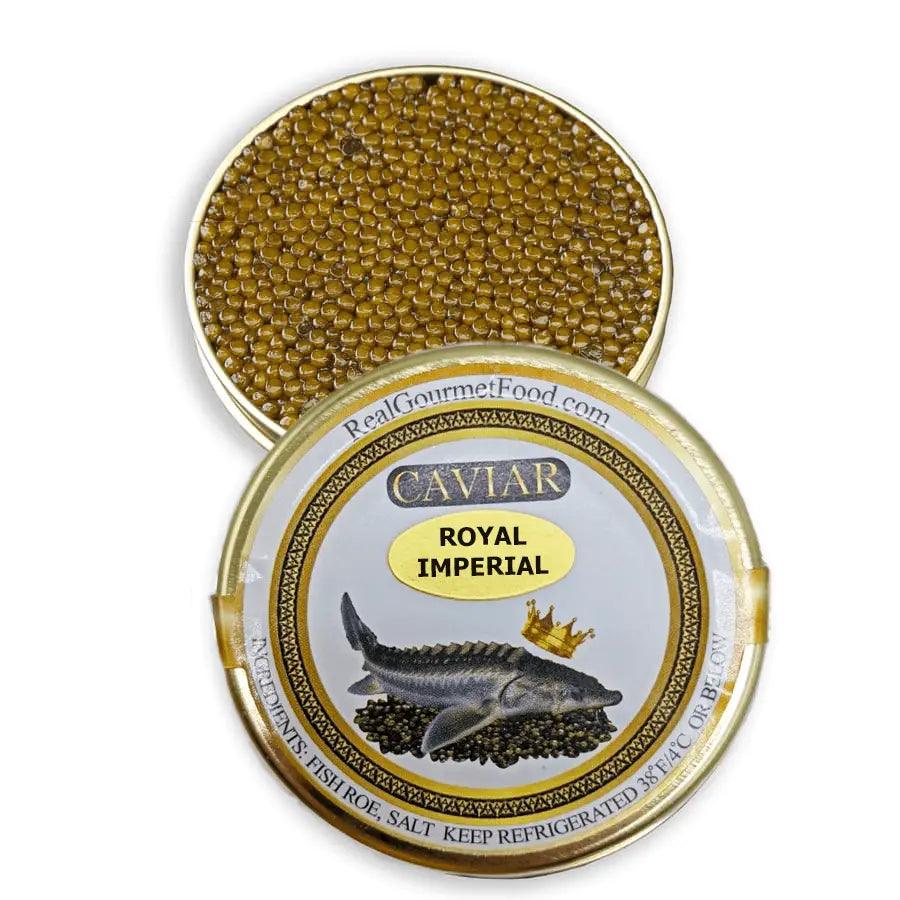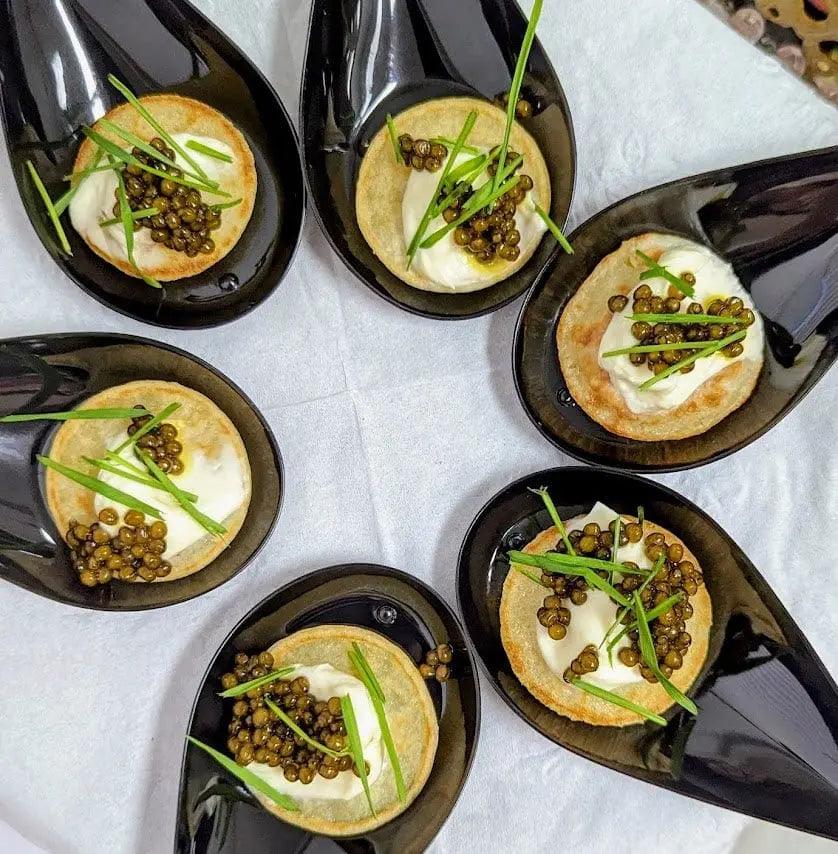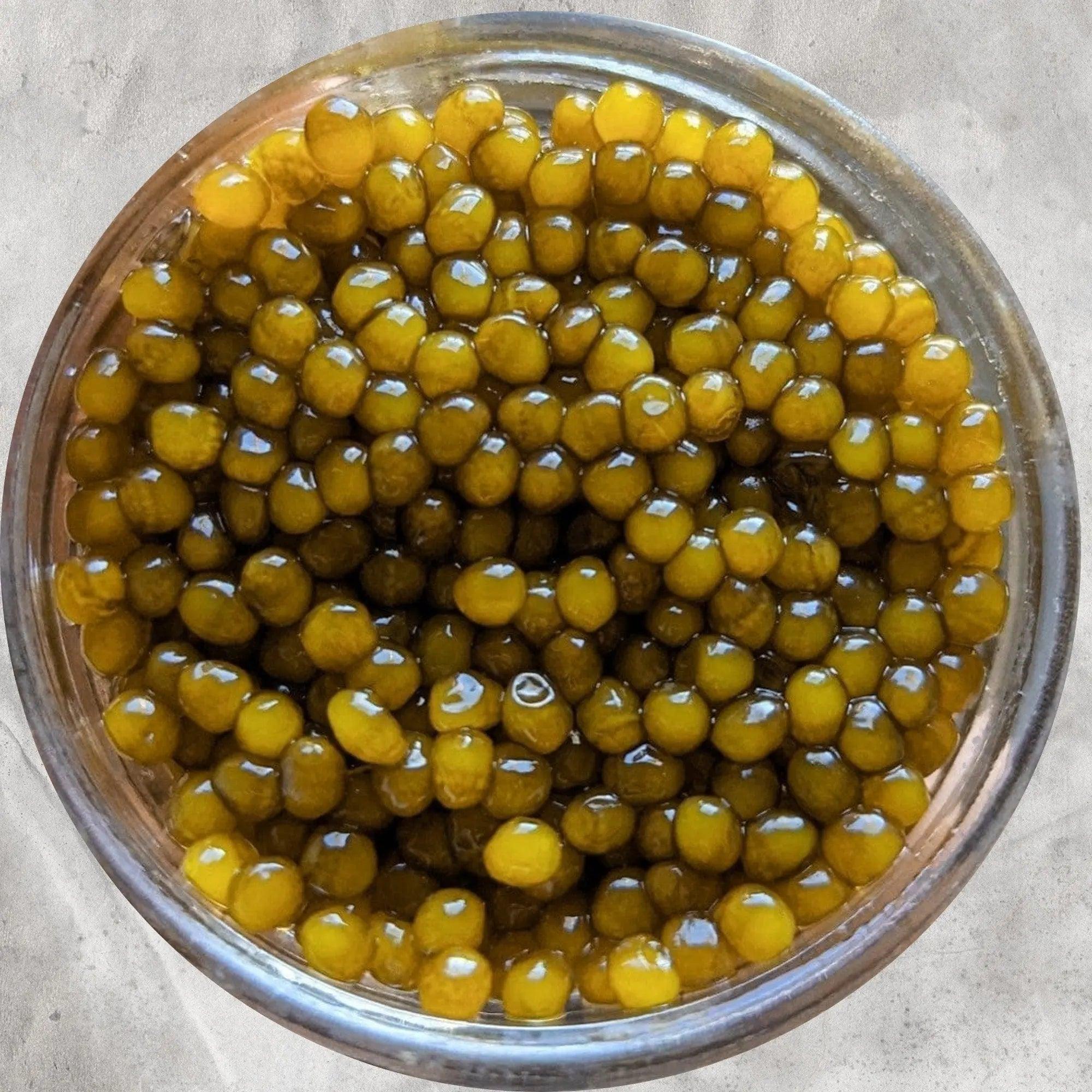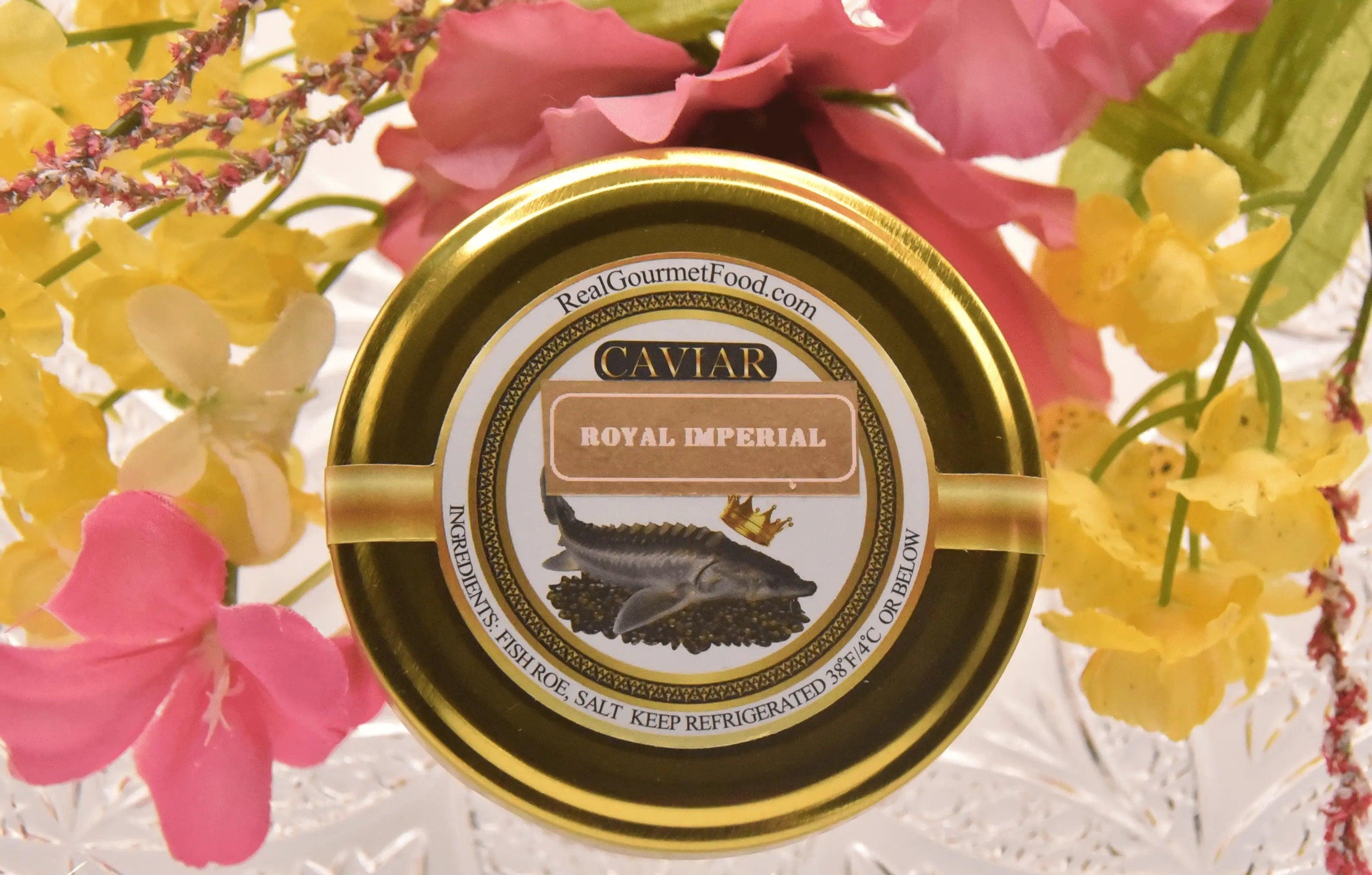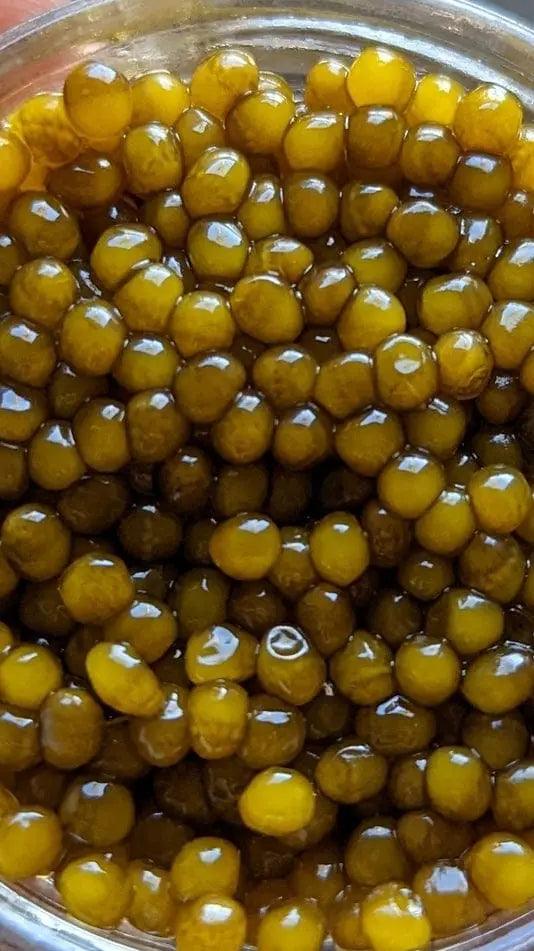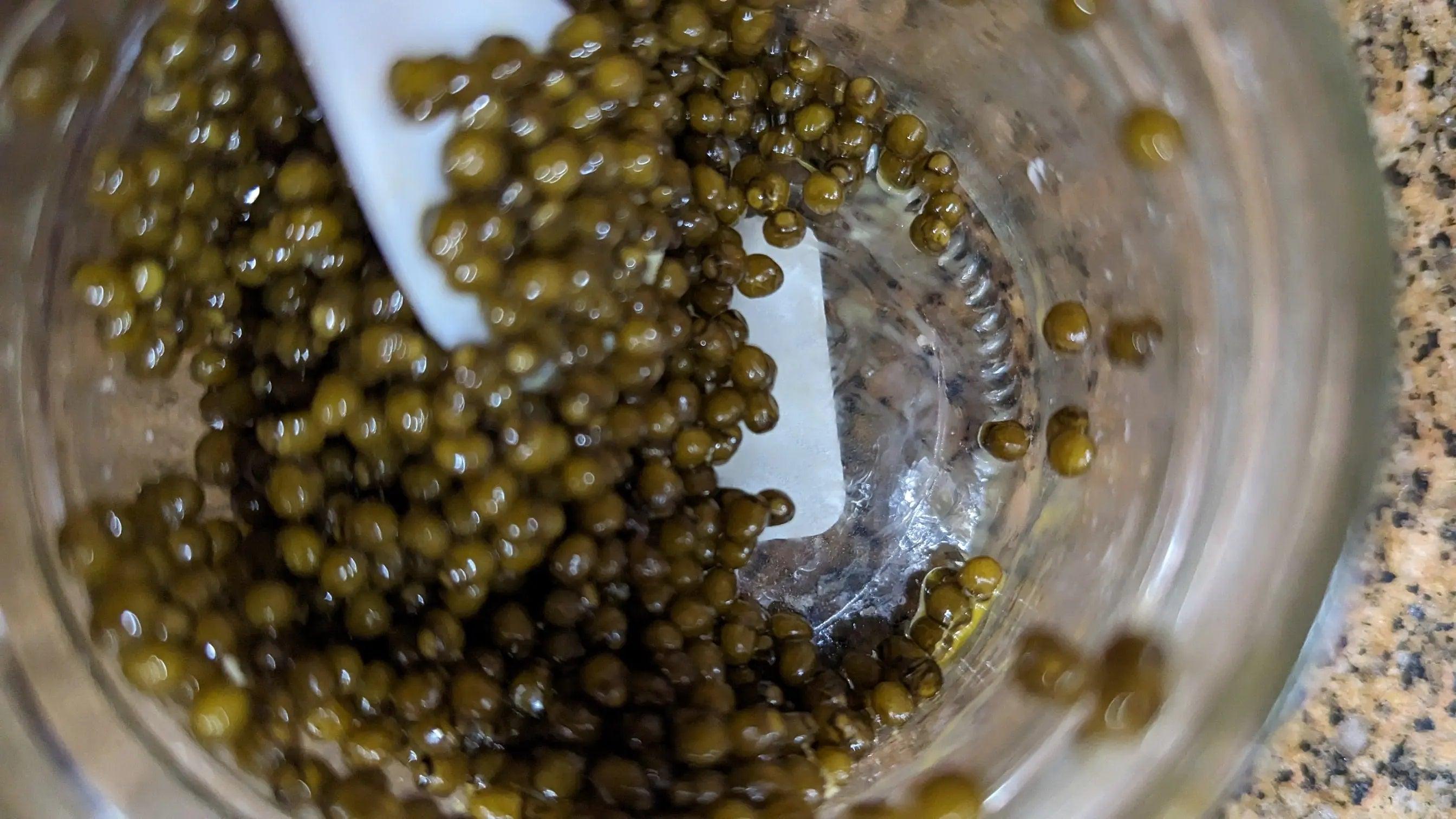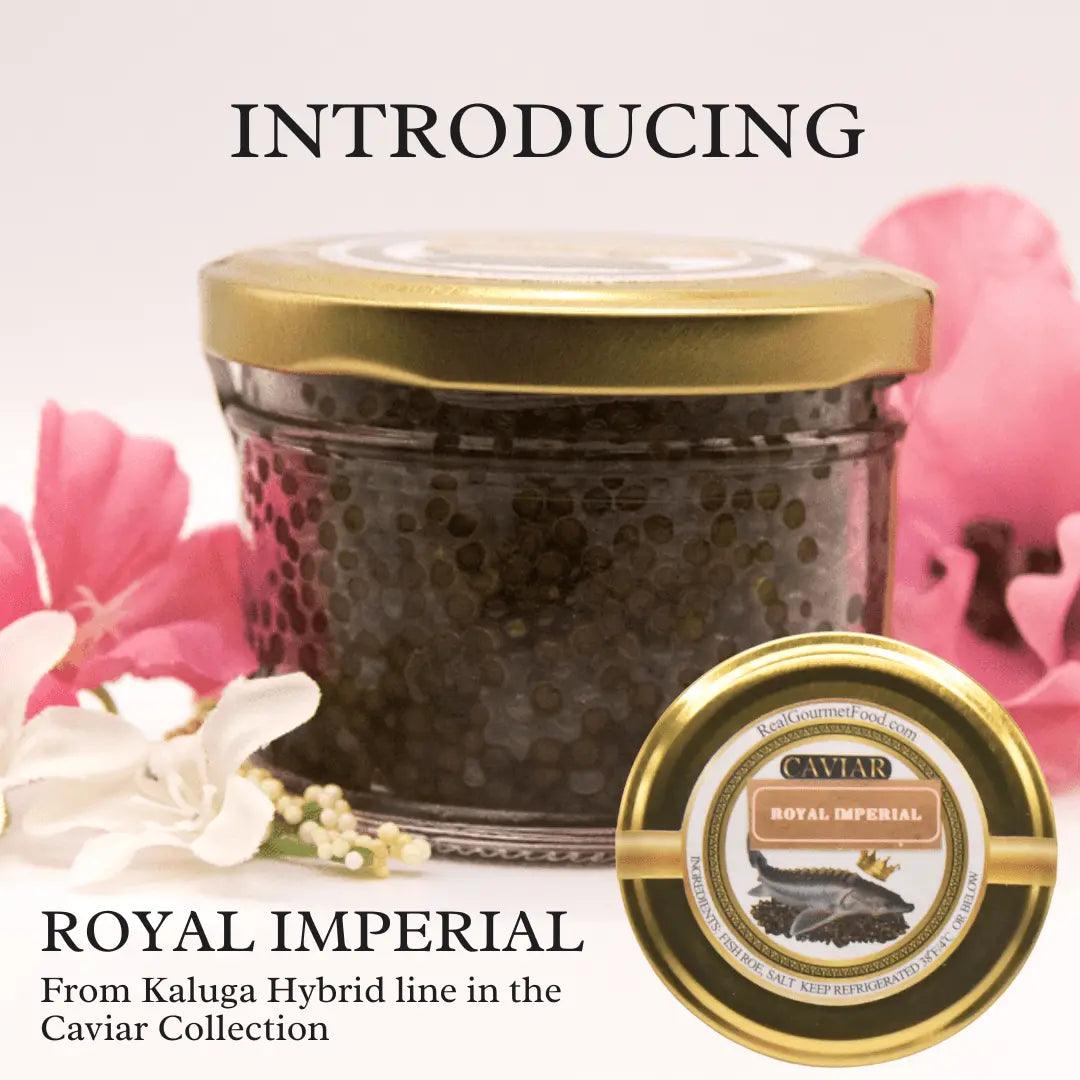 Products may slightly vary due to the nature of food item, lighting sources or computer monitor. Manufacturers may update packaging or change seasonally any time.
Royal Imperial (Kaluga Hybrid)
Regular price
$98.80
$81.02
Subscription • Save
Buy more, save more per ounce!
$81.02 / oz
NOTE: All perishable products ship overnight by default. Overnight shipping comes with a premium price. Here's how to get FREE shipping. CLICK HERE
Have a Question?
Description
The Royal Imperial is truly something special 🤩👑🐟 It is a Kaluga Hybrid, which means it is a cross between two species of sturgeon, resulting in a unique and unparalleled flavor profile. The Kaluga sturgeon is one of the largest species of sturgeon in the world, known for its firm, large, and luscious beads. This caviar is truly a feast for the senses, with a beautifully rich and complex flavor, a creamy texture, and a perfect balance of salty and buttery notes 🤤

The Royal Imperial caviar is a true gem, with each bead boasting a stunning brown to golden color, and a firm texture that pops in your mouth with every bite. This caviar is perfect for any occasion, from an intimate dinner for two to a grand celebration with family and friends. It is the perfect way to add a touch of luxury and sophistication to any meal, and is sure to impress even the most discerning caviar connoisseur 🍴
Don't wait to try our new Royal Imperial caviar, it's truly a one-of-a-kind delicacy that you won't find anywhere else. With its unmatched flavor and exquisite presentation, it's no wonder why this caviar has quickly become a favorite among our most discerning clients. Indulge in the finest caviar available and order your Royal Imperial today! 🙌👑 #RoyalImperial #CaviarDreams #LuxuryFood #KalugaHybrid #TasteOfExcellence
Packaging:

glass Jar / Tin

Genetic Na,e:
Acipenser Schrenckii

Preparation:

Fresh, Cured with Salt

Texture:

Firm


Color:

Brown to golden in color. 
Size of Grains: 
Large eggs. Approximetly 2.8mm (could reach 3mm)

Finish:

Creamy butter


Storage: 
1 Month Refrigerated 38°F / 4°C, Unopened. Do not freeze or refreeze. Consume within 3 days of opening.
Sizes for sampling
offered in:
0.5 to 2.0 oz
Thaw:
Never freeze the caviar. If ever frozen, thaw In the fridge until grains come apart naturally Never thaw at room temperature. Never cut into frozen caviar with a knife or pick at frozen caviar.
Heaven in a jar
Absolutely amazing, never tasted a better one
Heaven in a jar
Absolutely amazing, never tasted a better one