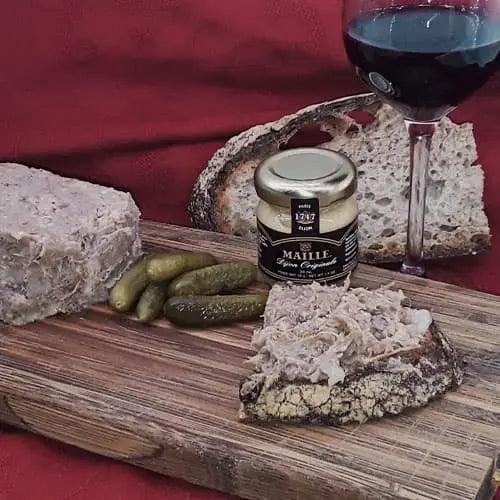 RILLETTE DE GASCOGNE
Regular price
$21.00
$18.99
Subscription • Save
NOTE: All perishable products ship overnight by default. Overnight shipping comes with a premium price. Here's how to get FREE shipping. CLICK HERE
Have a Question?
Description
RILLETTE DE GASCOGNE
Introducing the Rillette de Gascogne Duck Shredded Pate - a luxurious delicacy that is sure to impress even the most discerning palate 🦆. 

Made from tender duck meat that has been slow-cooked and shredded to create a rich and flavorful pate, this gourmet spread is perfect for adding a touch of elegance to any charcuterie board or hors d'oeuvres platter.

To serve, simply spread the pate onto slices of freshly baked bread, crackers, or crostini and garnish with a sprinkle of sea salt and cracked pepper for an added touch of sophistication. This pate can also be used as a versatile ingredient in a variety of dishes to add depth and complexity to your cooking 🍞🧀🍝.

Pair this delectable Rillette de Gascogne Duck Shredded Pate with a rich red wine such as a Merlot or Pinot Noir to complement the bold flavors and enhance the culinary experience 🍷👌. Alternatively, a glass of crisp white wine such as a Sauvignon Blanc or Chardonnay can also provide a refreshing contrast to the decadent flavors of this pate.

Indulge in the savory, meaty goodness of this classic French pate and savor every moment of your culinary journey with every bite 🍽️😋👨‍🍳.